Rowing is one of the best cardio workouts you can do. It's low impact which means it's easier on your joints than running. It's also a full-body exercise that will drive your heart and breathing rate sky-high, burning a whole lot of calories in the process. It's these advantages that make rowing so popular and a cornerstone of many CrossFit workouts.
To get the most from rowing, don't just hop the nearest rower and just work out mindlessly. Instead, follow a structured workout that will challenge you.
Here are 6 CrossFit rowing workouts for super-fit athletes. Not super-fit yet? Don't worry; all of these workouts are scalable and can be adapted for beginner and intermediate exercises too!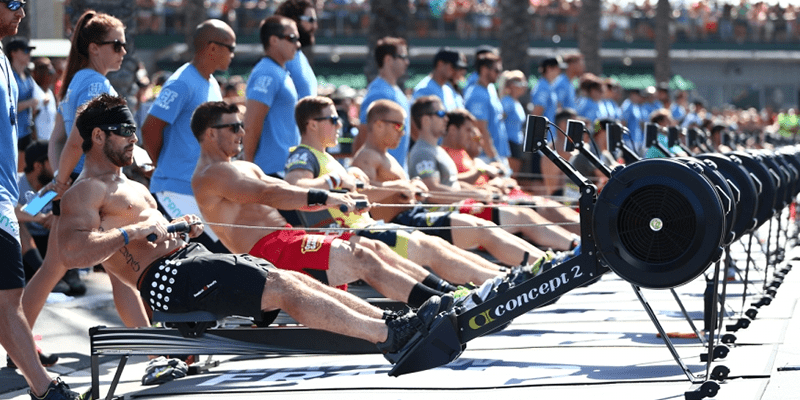 How to Row like a CrossFitter
Rowing is easy to learn, but that doesn't mean you can't do it wrong. Improper rowing technique could lead to injury, especially for your lower back.
Don't risk hurting yourself by rowing incorrectly. Follow these guidelines for comfortable, more effective CrossFit rowing workouts.
#1- Sit on your rower, put your feet on the footplates, and adjust the foot straps, so they go across the broadest part of your foot. They should be snug but not too tight.
#2- Grip the handle with an overhand grip. Hold it firmly but don't try and crush it.
#3- Start with your legs bent and your arms extended. Your arms should be level with the floor. Sit up tall and try not to round your lower back. Look straight ahead.
#4- Push with your legs to get yourself moving. Your legs should do most of the work when you row.
#5- As the handle passes over your knees, bend your arms and pull it into your abdomen. Don't pull it into your chest or lean back excessively. Keep your elbows tucked into your sides.
#6- Next, straighten your arms and then bend your legs. Slide forward into the starting position.
#7- Repeat, repeat, repeat! Try to maintain a steady rowing rhythm. Keep your shoulders down and back, your wrists straight, and remember to brace your abs throughout. For further details on how to row correctly, please check out this video.
CrossFit Tabata rowing workout
Lack of time does not mean you can't do a CrossFit rowing workout. In fact, despite being only four minutes long, this Tabata rowing workout will increase your aerobic and anaerobic fitness and trigger an all-day-long metabolism boost that will accelerate fat loss.
Four minutes might sound easy but, done right, this could be the longest four minutes of your life! Program your rower for eight intervals of 20 seconds work and ten seconds rest.
Turn up the resistance to the highest setting. When you are ready, hop on your rower and work as hard as you can for 20 seconds.
Do not hold back; this should be a sprint. Rest for 10 seconds and then go again. Try to cover the same distance as before. Keep going until you have completed all eight intervals.
The CrossFit Viking rowing workout
The Vikings knew a thing or two about fitness. After rowing their massive ships for hundreds of miles, they were still strong enough to leap from their boats and fight any defenders who tried to repel them. If you want to be fit like a CrossFit Viking, this is the workout for you!
The CrossFit Viking rowing workout involves four sets of rowing, each of which should be done at top speed.
250 meters
500 meters
750 meters
1000 meters
Your rest period between each set should be the same as the length of time it took you to complete the previous set. For example, if you rowed 250 meters in 50 seconds, you get to rest 50 seconds before you row 500 meters. As the intervals get longer, so too do the rest periods.
Rowing, push-ups, and squats CrossFit workout
Just because you are using a rower for your workout does not mean you can't add other CrossFit exercises into the mix. With this workout, you are going to combine rowing push-ups and squats for a total body workout that will build fitness and muscular endurance.
Storm through the following sequence as fast as you can. Make a note of the total time it took you to finish this workout and then try and beat it next time. Treat this entire workout like a race!
Row 1000 meters
Row 900 meters
Row 800 meters
Row 700 meters
Row 600 meters
Row 500 meters
Row 400 meters
Row 300 meters
Row 200 meters
Row 100 meters
Push-ups – squat down and place your hands flat on the floor, about shoulder-width apart. Walk your feet back until your body is straight. Brace your abs.
Bend your arms and lower your chest to within an inch of the floor. Push back up and repeat. If you can't do full push-ups, bend your legs and rest your knees on the floor.
Squats – Stand with your feet shoulder-width apart, toes turned slightly outward. Bend your knees and squat down until your thighs are parallel to the floor. Stand back up and repeat. Try not to round your lower back.
Broken 5000-meter CrossFit Rowing workout
5000 meters is a classic CrossFit rowing distance. It will challenge and develop your aerobic fitness as well as your endurance and determination.
Rowing 5000 meters in one go is tough for even an established rower. This workout breaks the distance down into more manageable chunks.
Complete the following sequence, increasing your speed from one interval to the next.
Row 2000 meters (slow and easy)
Rest two minutes
Row 1500 meters (medium speed)
Rest 1 ½ minute
Row 1000 meters (fast peed)
Rest one minute
Row 500 meters (flat out)
Finished!
Deck of cards CrossFit Rowing and Burpee workout
Grab a deck of cards for this CrossFit rowing and burpee workout. Shuffle the cards and place them face down. Turn over the first card…
For red cards, do a set of rowing
For black cards, do a set of burpees
If you turn over a red card, row ten-times the number shown, e.g., eight of hearts = 80 meters. If you turn over a black card, do that many burpees, e.g., six of spades = six burpees. Give aces one and kings, queens, and jacks the value of 12 to keep things simple. Keep going until you have completed all the cards or you run out of time.
Row-run-row CrossFit workout
This is an excellent CrossFit workout for developing cardiovascular fitness and increasing mental toughness. It's also straightforward. Just storm through the following rowing and running distances as fast as you can. Move quickly from one exercise to the next; no sneaky rests!
Make a note of the total time you take to finish this workout and then try and beat it next time.
Row 2000 meters
Run 1500 meters
Row 1000 meters
Whatever your fitness goal is, rowing will help you get there faster. It's hard to think of another exercise that is so good for working your entire body.
Some people complain that rowing is boring. That's probably because all they do is a row at the same speed and for the distance. That IS boring! Use these workouts to make rowing much more challenging and fun.
---