Jon Jones Tests Positive For Turinabol Metabolites
This Saturday marks the return of the Light-heavyweight UFC champion, Jon Jones and what's a 'Bones' fight week, without a good dose of controversy? In a not so shocking turn of events, Jon Jones' UFC 235 pre-fight doping test results came back positive for Turinabol metabolites. Jon has been tested a total of 6 times during February and out of those 6 samples that were collected results came back from 5 samples with  2 coming back positive for oral Turinabol metabolite, again in the picogram amounts.  Results from the sixth test are still not known. Here's the breakdown;
Feb. 1: No adverse analytical findings (USADA)
Feb. 9: No adverse analytical findings (VADA Calif.)
Feb. 14: Adverse analytical finding: DHCMT M3 detected 40 pg/mL (NSAC)
Feb. 15: Adverse analytical finding: DHCMT M3 detected 20 pg/mL (NSAC)
Feb. 18: No adverse analytical findings (VADA Nev.)
Feb. 23: Results pending (USADA)

If you are having deja-vu about Jon Jones testing positive for picogram amounts of Turinabol, you are not crazy. He tested positive for a trace amount of picograms this January.
It was revealed by MMAFighting earlier today that the UFC Light Heavyweight Champion had tested positive for Turinabol yet again in a test conducted by the Voluntary Anti-Doping Agency (VADA). Jones' urine samples were collected on the day of the weigh-ins for UFC 232 on December 28th, 2018 and the results of the test came back this week.
The explanations and the official story have been the same. Jon doesn't know how these pesky picograms got into his metabolism, and USADA is claiming this all residue amount that is "pulsing" in his cells as it is slowly getting out his body.
Here's what the champ had to say about all this in his own words.
"What makes me sleep good at night is knowing that I've submitted myself to every drug test,"…. "I'm getting tested by three of the most powerful agencies in the world. I've never avoided a test, and I just feel the more I'm accessible, the more data they'll have in this situation, and the more everybody will understand."
His UFC 235 opponent, is 2018 break-out star of the year, Anthony Smith. His stance about Jon Jones' "picogram" situation remains the same as it was back in January when Jones tested positive, for the first time this year.
It's expected. I didn't have any doubt in my mind. For whatever reason, he tends to pulse when he comes close to a fight. . I would have been more shocked if it wasn't there.
When pressed a bit more to give his view of his opponent's highly controversial doping tests, "The Lion Heart" gives his share.
I trust in the Nevada State Athletic Commission, I don't understand the science behind it, it doesn't make sense to any of us. But we're just regular people, so it doesn't make sense to me. Bob Bennet(head of NSAC) has been doing this for a long time and I just don't think that he would put me in a position where someone else starts with a head start.
The science behind all this has been as controversial as the subject of it's testing. Some articles on the internet point that oral Turinabol could be detected in your body up to 18 months.  On the other hand, Jon Jones has been quoted as saying that oral Turinabol metabolites could be detected in his system for up to 7 years!
So technically, Jon Jones could be testing positive for the same Turinabol metabolite he somehow ingested for the remainder of his fighting career.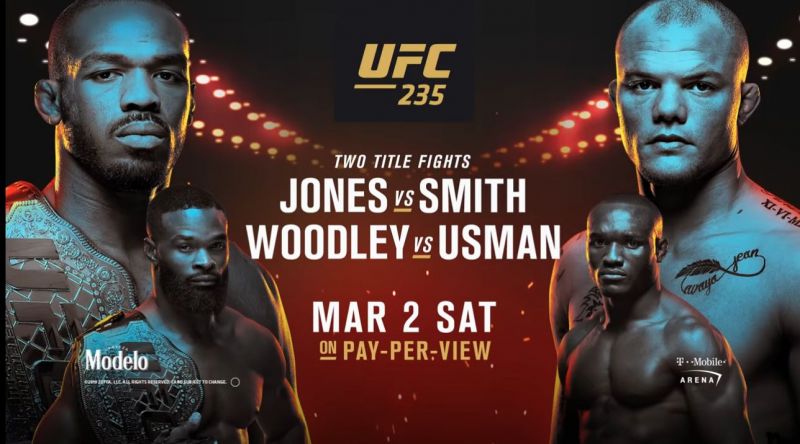 Either way, Jon Jones will be defending his Light-heavyweight belt tomorrow night against "The Lionheart" Anthony Smith at UFC 235. Buy the PPV, watch the fight and if you're a Jones hater, root for Anthony to pull off a huge upset and if you are a Jon Jones fan root for your favorite fighter.