Crazy body transformations are nothing new in the world of Hollywood but that doesn't mean we're any less impressed when an actor makes huge gains in order to take on a movie role.
Well, 'The Big Sick' Star Kumail Nanjiani recently had to push his body to the limits for the role of 'Kingo' in the upcoming Marvel film 'The Eternals' which is set to hit theaters November 6, 2020. It took him a whole year to achieve his impressive physique and he's darn proud of himself for making such a mind-blowing transformation.
So much so, that he posted a photo of the finished product on Instagram along with an inspirational message which you can see/read below…
But first, here are some photos of what he used to look like…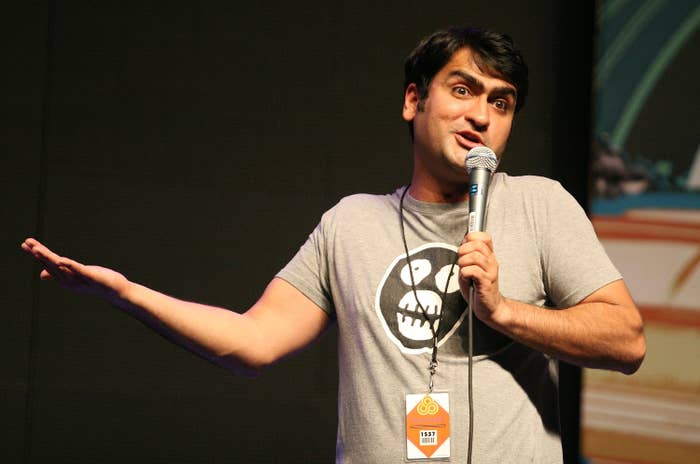 And this is after his transformation… check out that vascularity!
In the post, Nanjiani includes some humor (which is to be expected) as he talks about the transformation but he was also very thankful to be able to take on this role and have the luxuries that he did to be able to change his body so drastically.
"I never thought I'd be one of those people who would post a thirsty shirtless, but I've worked way too hard for way too long so here we are. You either die a hero, or you live long enough to see yourself become the villain. I found out a year ago I was going to be in Marvel's Eternals and decided I wanted to transform how I looked. I would not have been able to do this if I didn't have a full year with the best trainers and nutritionists paid for by the biggest studio in the world."

"I'm glad I look like this, but I also understand why I never did before. It would have been impossible without these resources and time. So big thanks to @grantrobertsfit who started working with me at the beginning of the year and made me understand true physical pain for months and months. Then, once we started shooting, a massive thanks to @davidhigginslondon and his team (@ellispartridge, @thebeardypt, @tomcheesemanfitness) for training me almost every day and making me strong, limber and injury free."

"I can almost touch my toes now. (And thank you for forcing me to do cheat meals David.) Matthews Street Catering for their delicious and healthy meals. And finally, the biggest thanks goes to @emilyvgordon for putting up with me complaining and talking about only working out and dieting for the last year. I promise I'll be interesting again some day. #thirstyshirtless (Photo by @markupson.) (edit: I left off one very important person: @lancecallahan who trained me for 6 years and helped me build the foundation I could use to do this. Thank you!)."
Here's are celebrities praising him for hard work:
The Rock
Extremely hard work. Dense muscle is hard to achieve. Looking great my brother!! 💪🏾👊🏾
Dave Bautista
Holy good god! I'd say mission accomplished. 😂 way to get after it brother! 💪🏼
Terry crews
DAMN!!!!!!🔥🔥🔥🔥🔥🔥🔥✊🏾 Proud of you!
The film is based on the Marvel Comics race of the same name. And although we don't have all the details, the premise of the film is about a race of immortal beings (Eternals) that were created by the 'Celestials', whose purpose is to protect humanity from the evil 'Deviants'.
Eternals will be directed by Chloé Zhao and Kumail Nanjiani will star alongside Angelina Jolie, Richard Madden, and Salma Hayek, so be sure to see it once it hits theaters.