The 2022 Miami Muscle Beach Pro was a 2022 Olympia qualifier, which took place on Saturday, June 4, 2022, in Miami, Florida. In total, three divisions were featured at the event, including Men's Physique, Bikini and Wellness.
This year's season of bodybuilding is underway, and many athletes walked away from the stage, having earned their invitation to compete at 2022 Olympia later this year. The 2022 Olympia contest will take place from Dec. 16 to Dec. 18, in Las Vegas NV. You can find the 2022 Miami Muscle Beach Pro winners below.
2022 Miami Muscle Beach Pro Winners
Men's Physique: Alexander Toplyn
Bikini: Sierra Swann
Wellness: Giselle Machado
Men's Physique
Miami's Men's Physique lineup was stacked with talent and plenty of competitors. Heading into this weekend, many pegged Men's Physique standout Alexander Toplyn as an early favorite. After earning second place at the 2022 New York Pro, Toplyn came incredibly close to earning his invitation to Mr. Olympia in Dec.
In addition to Toplyn, another name that fans circled on their calendar was Jeremiah Maxey. Last year, Maxey put forth an impressive season in the sport, starting with a title he claimed at the 2021 Phil Heath Classic. He entered the show with momentum, having earned first place at the 2021 NPC USA Championship, showing that he's more than capable of winning back-to-back shows. With a huge crop of talent vying for gold, it was Alexander Toplyn who impressed the judges, earning his invitation to Mr. Olympia in Dec. 2022.
Winner — Alexander Toplyn
Second Place — Jeremiah Maxey
Third Place — Vitor Chaves
Fourth Place — Ramses Rams
Fifth Place — Anthony Gilkes
Sixth Place — Montae Bailey
Seventh Place — Cam Harris
Eighth Place — Ricky Wilson
Ninth Place — Lindon Bond
Tenth Place — Clarence McSpadden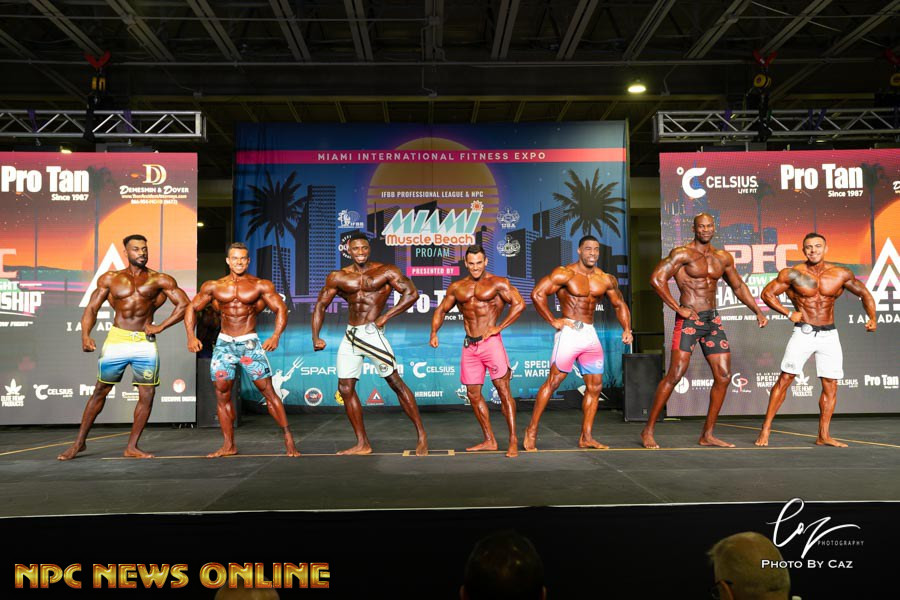 Bikini
One of the names to watch heading into this contest was Erin Stern, who placed fifth a few weeks ago at the 2022 New York Pro. As a result of her last performance, the IFBB Pro clearly addressed her prep in a comprehensive manner, as she pushed all of the top performers in the Bikini division over the weekend.
Fellow Bikini competitor Sierra Swann entered the show with a lot of hype too after controlling the stage at the 2022 California Night of Champions, where she earned first place. Many expected these two top-tier athletes to battle on stage and that's exactly what happened. After a heated battle on stage, Sierra Swann won the title and earned her Olympia qualification.
Winner — Sierra Swann
Second Place — Erin Stern
Third Place — Liana Giannamore
Fourth Place — Gabriella Mohamed
Fifth Place — Shelby Pierce
Sixth Place — Mary Ann Parks
Seventh Place — Lawna Dunbar
Eighth Place — Lauren Adams
Ninth Place — Shanae Dicicco
Tenth Place — Liana Martinez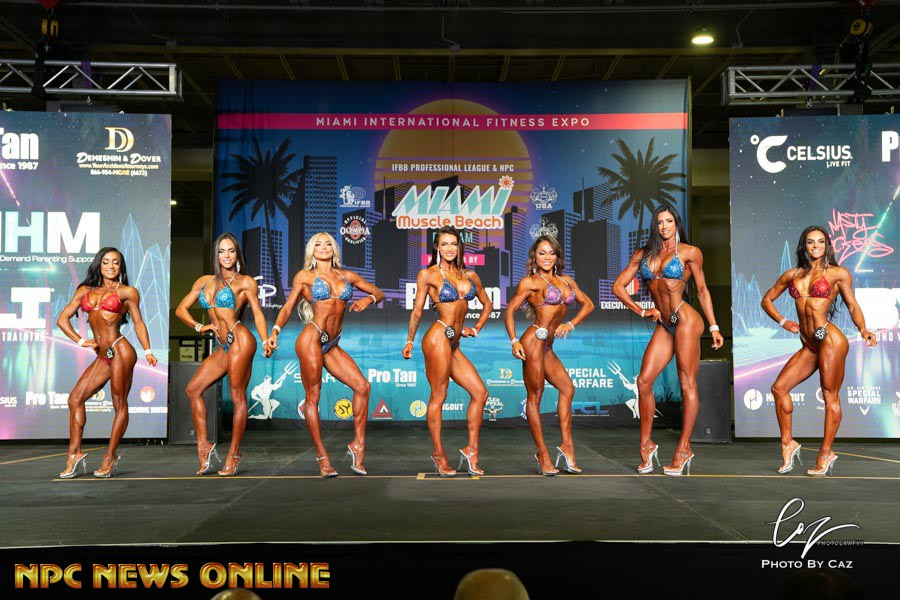 Wellness
Heading into the contest, many fans perceived Giselle Machado as one of the biggest threats to the Wellness title in Miami. Despite only competing at one IFBB Pro League show in 2021, she was dominant, and won first place at the 2021 Monterey Pro.
Popular Wellness bodybuilder Judian Winston came into the weekend with momentum. She's remained incredibly busy during her most recent season in the sport. Despite a ninth-place performance at the 2022 Pittsburgh Pro, she bounced back fast with a fourth place showing at the 2022 New York Pro held a few weeks ago. In the end, Giselle Machado separated herself from the pack and won the show, earning her invitation to compete at Olympia later this year in Dec.
Winner — Giselle Machado
Second Place — Judian Winston
Third Place — Sheila Martins
Fourth Place — Kayla Rossi
Fifth Place — Rafaelle Zen
Sixth Place — Natalia Prado
Seventh Place — Mia Samuels
Eighth Place — Deshondra Brown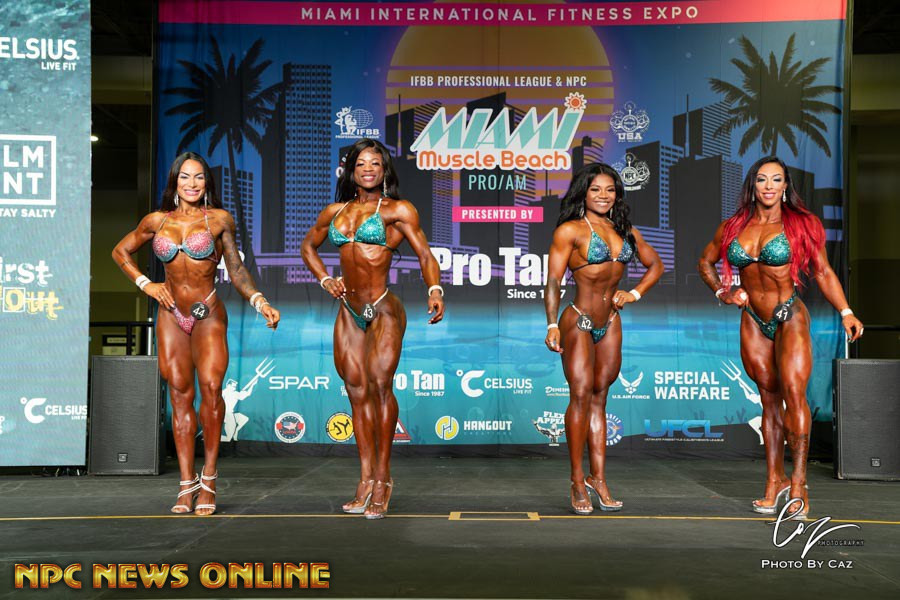 2022 Miami Muscle Beach Scorecards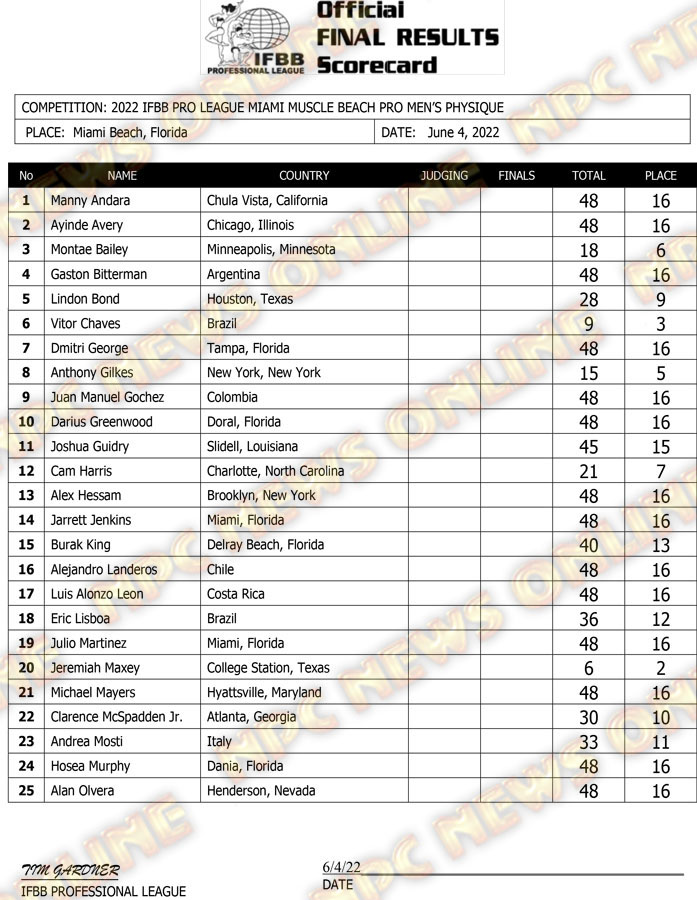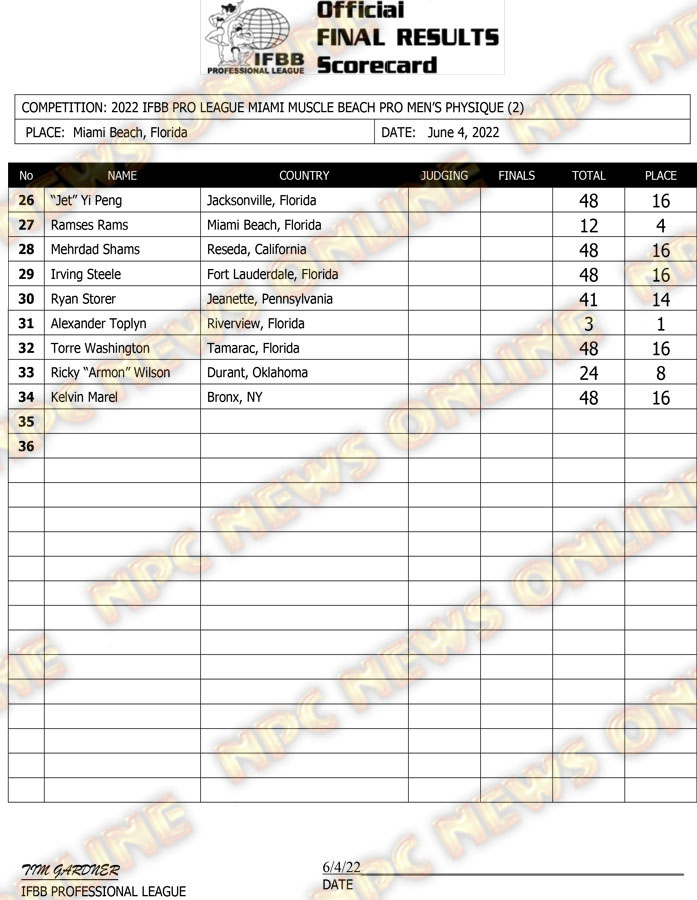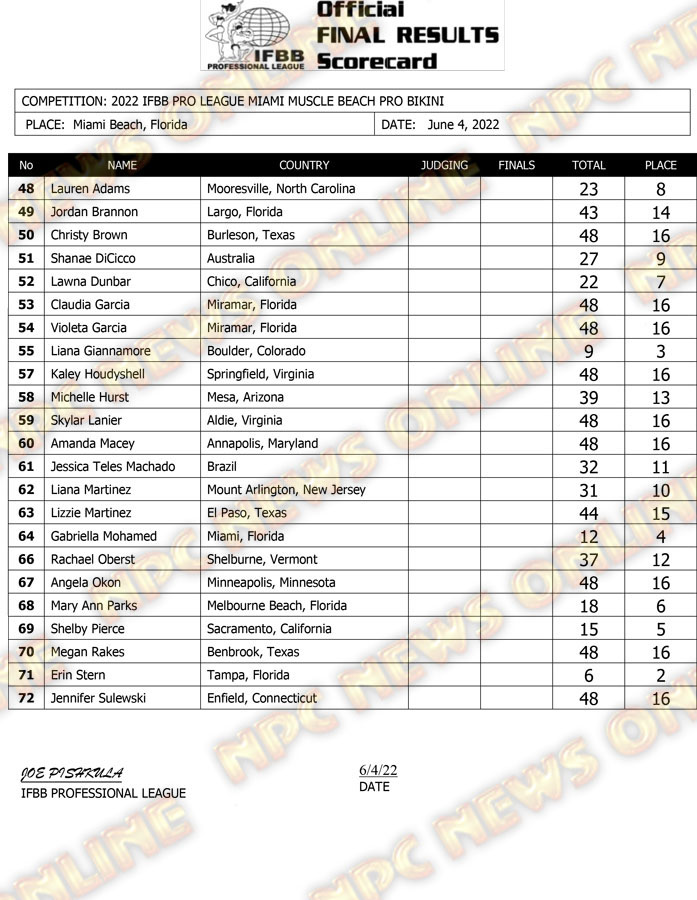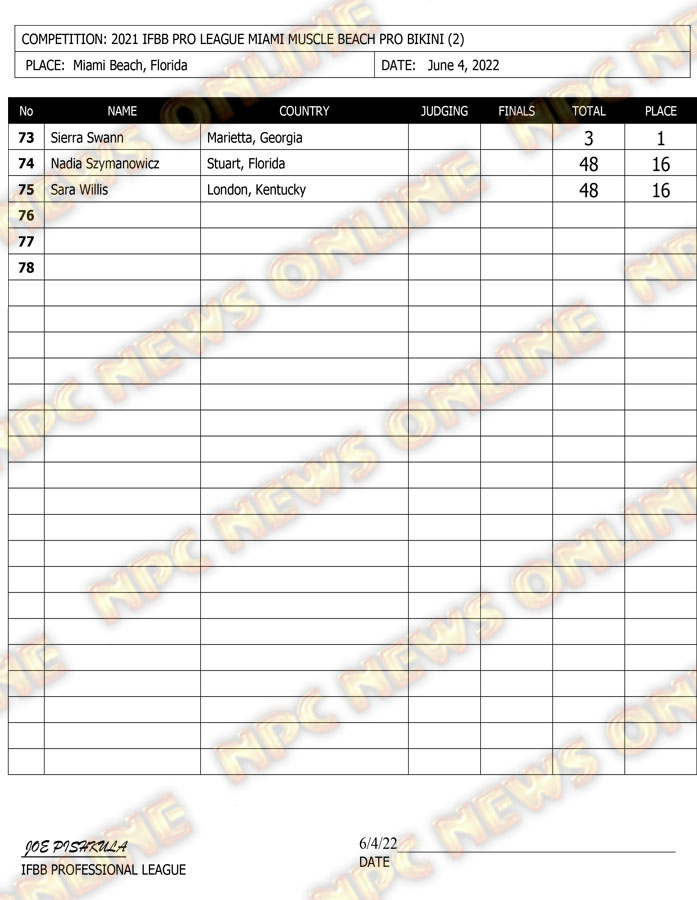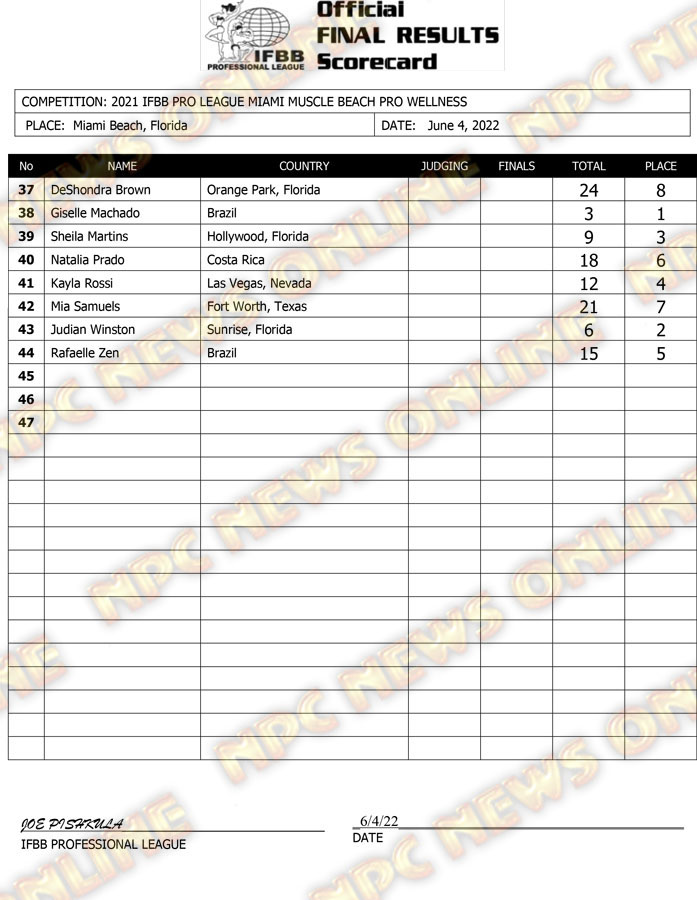 Three divisions crowned winners at the 2022 Miami Muscle Beach Pro and earned their invitations to compete at 2022 Olympia later this year.
Fitness Volt would like to congratulate Alexander Toplyn, Sierra Swann and Giselle Machado on their massive victories!
---