Before you even start reading I'd like to start this off with saying that there is no definitive answer. I've tried some pre workouts that were riddled with buzzword labels like "BRUTAL" "MEGA" "AWESOME" and "HARDCORE" while all I got from them was a minor heartburn, while on the other a caffeine pill(before I developed a ridiculous tolerance) sent me into pure beast mode.
In this article, I will try to dissect what actually makes a quality pre-workout and what you should take in order to get that extra edge in your workout.
Now let's get this party started! But… before all the details check out our top 17 pre-workouts picks!
The Chemistry
The barebone basics of the most pre-workout supplement are caffeine, creatine, nitric oxide and beta-alanine. Caffeine makes you hyperactive and energetic, creatine promotes muscles growth and energy, nitric oxide widens the blood vessels and gives you the infamous "pump", while beta-alanine increases your strength and endurance during a workout.
Those are the top 4 basics that you will find in almost all pre-workout supplements. They are to gym junkies what cocaine is to Charlie Sheen, a necessity. However, the fitness industry is based on companies that are in it to win it… meaning; they don't just want you to be happy with their supp, they want the money. So, naturally, companies need to make their product stand out somehow.
This is now the point when they start throwing in random sh*t into the mix. Often enough if you look at the ingredient list of a pre workout you will see a "cool" sounding name for an unknown chemical compound, something like "hulk semen" or "werewolf blood". It could be cocaine, it could be Bane's venom formula or it could just be sugar, the point is they don't want you or other companies to know what their "secret ingredient" is.
"Is it safe to take pre-workout?"
Yes, it's totally fine but I would urge you to not give in to pesky supplement store sellers that are trying to sell you everything they have in the store. If it's your first time going down the rabbit hole that is the pre-workout market,  I would suggest buying a couple of testers first and seeing how they feel. Also, don't let labels fool you. Just because they have a badass looking snake as their logo, doesn't mean they're a good company or that the stuff you're buying is any good.
And for the love of everything that's holy, don't consume past the recommended dosage. At least not at first, pre-workouts need some time before they start kicking in. It could be 10 minutes or it could be half an hour before the stuff kicks in. This isn't a rave and pre-workout isn't acid, it's far more worse.
Mixing Your Own Stash
By now a light bulb probably appeared above your head and you thought to yourself "why can't I just buy the basic 4 ingredients and mix my own stuff?". Slow down, Pablo Escobar. Yes, you can do that and it might work out for a bit but as the tolerance kicks in you will have to increase your dosages and sooner or later you will end up devouring a fist full of 100mg caffeine pills just so you don't fall asleep in the gym. And trust me on this one, you do not want to get hooked on caffeine pills. One pill turns to two pills, two turns to four and before you know it your downing eight pills and questioning your own sanity.
Pre-workout Alternatives
A good energetic pre-workout meal can have a similar effect in the gym as a pre-workout. Something filled with fast sugary carbs that get into your bloodstream fast. It will fill you with energy and give you a nice boost in the gym. Foods like peanut butter on toasted bread with some fruits is a good example of a pre-workout meal. However, saying that to a gym junkie is like telling a meth head that he should try chocolate instead.
If eating before working out isn't really your thing, then how about angry music? Go to youtube and type in any of the following terms "best gym music" "best music playlist" and start researching. Don't tell me listening to Slayer(or Taylor Swift if that's more your thing) doesn't automatically add 20lbs to your bench press.
Recommended Pre-workouts
The list of supps here is either stuff I take, used to take or got recommended by friends. I am not being paid the companies to shill their stuff.
N1
The label on this badboy says "WARNING: Extreme energy" and ho lee phuk, they are not kidding. It takes anywhere from a couple of minutes to 20 minutes to kick in but when it kicks in it's tingles, it's energy, it's aggression, it's hyperactivity. It's everything a solid pre-workout needs to be. In fact, it's the only pre-workout I tried that had an immediate kick in. Everything else I tried either didn't work at all or I had to take an absurd amount to get anything out of it.
Caffeine Tables
Yes, I talked sh*t about caffeine tablets. Yes, they are really addictive and yes I'm still putting them on the list. Honestly, this is the only pre-workout you really need. It kicks in almost immediately and lasts long enough for you to finish your 8-hour arms training session. Twice. Bro tip: if this is going to be your first time dabbling with Caffeine pills, start with100mg pills. It will be more than enough.
My Pre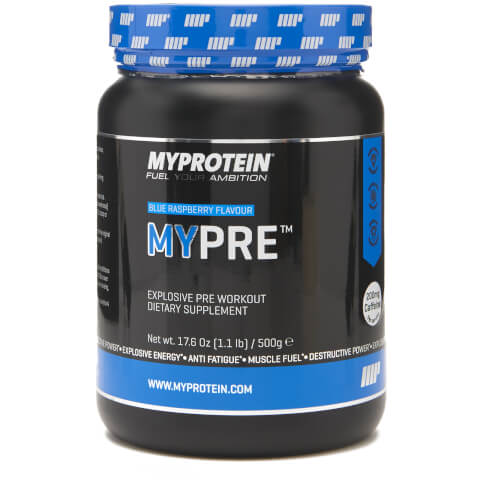 I personally haven't tried this, but it's highly ranked online and a friend of mine swears that it's as hardcore as hardcore gets. Taking a gander at its ingredients I quickly understand the love it gets. It packs a huge punch in the caffeine department as it has 400mg per serving. Take two scoops of this and prepare to have an outer body experience.
Olimp's Redweiler
Although the label promises a furious pump and has good online reviews I was left underwhelmed by it. I tried the liquid version which has a label that states; that you, do not, under any circumstances drink more than half of vial. Me being a very stubborn person I decided to try my luck and drink the whole thing and well, nothing happened. However, I have a friend of my a vial of Redweiler, he drank half and by the way he looked, I legit thought he would turn into a Super Saiyan.
Cobra Labs' The Curse
Bodybuilding.com has it ranked #8 on it's best pre-workout list and I was always kinda curious if it was any good since It got recommended to me on multiple occasions. I got my chance to try this when a dude in my gym started downing these before an MMA session. I curiously asked him if it's any good and the polite dude offered me to take a scoop. I took him up on his offer and well…nothing happened.
However, I got a chance to do some light sparring with the guy later on and he was flying through the gym. So…yeah, I guess it works?
---