Old-school bodybuilders knew a lot about sculpting massive muscles. Without the aid of sophisticated machines, supplements, or mega-doses of steroids, they built amazing physiques that are still impressive today.
While golden-era bodybuilders like Steve Reeves, John Grimek, Dave Draper, and Frank Zane weren't as big as the current batch of muscle monsters, they built bodies that looked athletic, and that were aesthetically pleasing. These guys were strong too!
What they lacked in fancy gym equipment, old-schoolers made up for by creating unique ways to train their bodies. Some of these exercises have stood the test of time and are still in use today, but others have been all-but-forgotten.
Here are 12 of the best, forgotten exercises for building muscle and strength. Use them the next time you want to inject your workout with some fresh variety.
The Best Forgotten Exercises
1- Zercher squats
Zercher squats were invented by St. Louis strongman Ed Zercher, who was a prominent strength athlete in the 1930s and 1940s. At the time, Zercher was one of the strongest men in America, and his namesake lift, the Zercher squat, was once used in weightlifting competitions (1). It's no longer a competitive lift, but the Zercher squat is a great way to build strength and muscle mass.
Main muscles worked: Quadriceps, hamstrings, gluteus maximus, abductors, adductors, Erector Spinae, core, biceps.
How to do it:
Hold a barbell in the crook of your elbows. Bend your arms and clasp your hands together in front of your chest. Stand with your feet shoulder to hip-width apart, toes turned slightly outward.
Push your hips back, bend your legs, and squat down until your thighs are roughly parallel to the floor.
Stand back up and repeat.
Heavyweights can hurt your arms. Use a squat bar pad or wrap the bar in a towel to take the pressure off your arms.
Benefits:
You can drop the bar if you are unable to complete a rep
Works your upper body and lower body at the same time
Teaches you to keep your chest up and lower back arched during squats
2- Barbell good mornings
While some exercises are just forgotten, others are purposely ignored because somebody once labeled them as dangerous. The barbell good morning used to be a staple back exercise for old-school bodybuilders, but very few people do this movement anymore. That's a shame because very few exercises work your posterior chain as well as this classic movement.
Main muscles worked: Hamstrings, gluteus maximus, erector spinae, core.
How to do it:
Rack and hold a barbell across your upper back. Pull the bar down into your traps to make sure it doesn't move. Stand with your feet shoulder to hip-width apart. Lift your chest and brace your abs.
Push your hips back and hinge forward from your hips. Do not allow your lower back to round. Lean as far forward as your flexibility allows.
Drive your hips forward and stand back up. Reset your core and repeat.
Benefits:
Works your back, from the base of your neck to the bottom of your spine
Teaches you to maintain a neutral spine
An excellent butt exercise
3- Steinborn squats
Weightlifters and bodybuilders have been squatting for hundreds of years, but squat racks and power cages are relatively recent inventions. Before racks and cages, lifters had to get the bar on and off of their backs without help or extra equipment. We now call this Steinborn squats, named after Henry "Milo" Steinborn – an old-school strongman who made this maneuver so famous.
Main muscles worked: Quadriceps, hamstrings, gluteus maximus, abductors, adductors, erector spinae, obliques, core.
How to do it:
Stand your barbell on its end. Make sure your collars are tight. Squat down next to the bar and lower it across your shoulders. Grip the bar as usual.
With your core tight and your lower back arched, stand up with the bar on your back. Do as many reps as specified in your workout.
Squat down and rock the bar over so that the end rests on the floor. Stand up, tilting the bar upright as you do.
Benefits:
A powerful core exercise
Develops whole-body strength
Good for lateral spine mobility
Please note: This exercise can be tricky to master. Use an empty bar until you have perfected this unconventional lift.
4- Arnold press
The Arnold press is named after legendary bodybuilder Arnold Schwarzenegger. Arnie credits this exercise for building the deltoids that helped him win seven Mr. Olympia titles. You won't see this exercise very often in gyms today, but it's well worth adding to your shoulder workout.
Main muscles worked: Anterior, medial, and posterior deltoids, triceps.
How to do it:
Seated or standing, hold a dumbbell in each hand. Bend your arms and curl the weights up to your shoulders. Make sure your palms are facing your body. Your upper arms should be roughly parallel to the floor.
Spread your arms apart and then press the weights up and overhead.
Bend your arms, lowering the weights to roughly ear-height, and then bring your elbows in to meet in front of your chest. That's one rep – Keep going!
Benefits:
Works all three deltoid heads at the same time
Increases time under tension for greater muscle growth
Involves more coordination than regular shoulder presses
Endorsed by the legendary Arnold Schwarzenegger!
Related: Arnold Press Guide.
5- Cross-body dumbbell triceps extensions
When it comes to triceps training, a lot of modern bodybuilders rely on the same old variations of triceps pushdowns and skull crushers. There is nothing especially wrong with these exercises but, if you want to build truly fantastic triceps, you need to work them from different angles. This cross-body triceps extension exercise does just that!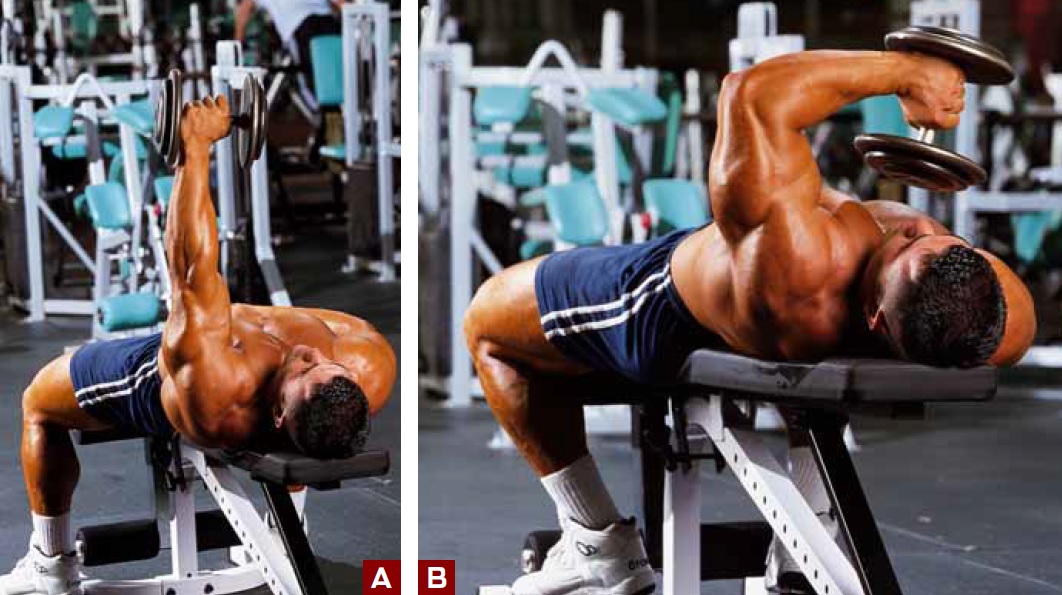 Main muscles worked: Triceps brachii, anconeus.
How to do it:
With a dumbbell in one hand, lie down on a flat exercise bench. Press the weight up to arms' length above your shoulder. Place your non-working hand on the back of your extended arm.
Bend your elbow and lower the weight down and across your body until it is just above your opposite shoulder. Keep your upper arm vertical.
Extend your arm and repeat.
Benefits:
Adds variety to your triceps workout
Allows you to identify and fix left-to-right strength imbalances
Emphasizes the lateral or outer head of the triceps
6- Sissy squats
Despite the name, this exercise is not for the faint-hearted. In fact, despite being just a bodyweight exercise, it will set your quads on fire. This was a favorite of Tom Platz, who had arguably the best legs in bodybuilding history. Be warned, while this exercise is a great quad builder, it can be hard on your knees. Avoid this exercise if you have a history of knee pain.
Main muscles worked: Quadriceps
How to do it:
Stand with your feet about hip-width apart next to a wall or upright exercise bench for balance. Stand on your tiptoes or place your heels on 2 to 4-inch blocks.
Bend your knees and simultaneously lean back, using your arm for support. Keep your shoulders in line with your hips and knees.
Squat down until your butt almost touches your heels. Your body should be inclined to about 45 degrees.
Stand back up and repeat.
Make this exercise harder by holding a dumbbell in your hand or a weight plate across your chest.
Benefits:
A challenging bodyweight quad exercise
A good exercise for home workouts
An effective finisher after barbell squats or leg presses
7- Dumbbell bridge floor press
Before weight training benches were invented, if you wanted to do any kind of horizontal pressing exercise, you had to do it laying on the floor. The floor press was once a competitive lift, but this bridge version is a better muscle builder because it allows for a greater range of motion. Think of it as a poor man's decline bench press, emphasizing the abdominal head of the pecs, which is the sternal/lower portion.
Main muscles worked: Pectoralis major, triceps, deltoids, gluteus maximus, hamstrings, erector spinae, core.
How to do it:
Lie on your back with a dumbbell in each hand. Press the weights up to arms' length. Bend your legs and place your feet on the floor. Push your hips up toward the ceiling. Keep them up for the duration of the exercise.
Bend your arms and lower the dumbbells to your chest. Press them back up and repeat.
You can also do this exercise using kettlebells, a barbell, or one arm at a time.
Benefits:
Helps develop leg drive in the bench press
Good for your glutes and hamstrings
Easier on your shoulders than regular bench presses
8- Bradford press
If you have sore, tight shoulders, you should probably avoid this exercise. But, if you are looking for an unusual way to work your shoulders, the long-forgotten Bradford press is worth trying. Named after champion USA weightlifter Jim Bradford, this exercise is best done with light weights for high reps, and will really pump up your delts as well as your triceps.
Main muscles worked: Deltoids, triceps.
How to do it:
Hold a barbell in front of your chest with an overhand, slightly wider than shoulder-width grip. Your elbows should be directly beneath your shoulders.
Press the weight up and over your head, lowering it behind your neck. The bar should only just clear the top of your head, and you should NOT lock out your elbows.
Immediately press the weight back over your head, returning to your starting position. That's one rep; keep going!
You can do this exercise seated or standing as preferred.
Benefits:
Works all three deltoid heads
Good for shoulder mobility
Produces a great pump
An excellent warm-up or finishing exercise
9- Saxon side bends
Arthur Saxon, nicknamed the Iron Master, was a strongman and circus performer in the late 19th and early 20th century. He was famous for his incredible feats of strength, not least a world record in the bent press of 168kg/370 lbs that is still unbroken today. Saxon wrote several strength training books and courses, and this unique oblique exercise is named after him.
Main muscles worked: Obliques, rectus abdominus, erector spinae.
How to do it:
Press and hold two dumbbells up and overhead. Stand with your feet about shoulder-width apart. Bend your knees slightly for balance.
Keeping your shoulders and hips square, lean over to the left and then to the right. Keep your arms extended throughout.
You can also do this exercise with a barbell or a medicine ball.
Benefits:
A unique core exercise
Good for spine mobility
Can be done without weights as a warm-up exercise
10- Monkey rows
Monkey row also known as an armpit row, this forgotten exercise is a sort of upright row and shrug hybrid. It's a good exercise for "getting yoked," or building your deltoids and upper traps. It can be a little hard on the shoulders, which may help explain why this once-popular exercise is rarely seen. But, if your joints are in good shape, this exercise is still beneficial.
Main muscles worked: Upper trapezius, deltoids, biceps.
How to do it:
With a dumbbell in each hand, stand with your arms by your sides and feet between shoulder and hip-width apart, knees slightly bent for balance.
Bend your arms and row the weights up and into your armpits. Keep your elbows directly above your hands.
Lower the weights to your sides and repeat.
Benefits:
An excellent alternative to regular upright rows and shrugs
Works your deltoids and traps at the same time
An unusual exercise that will add variety to your workouts
11- Hise shrugs
If your upper traps are lacking in size, or you find that barbell back squats hurt your upper back, Hise shrugs will help. Named after Joe Hise, a man often referred to as the father of American weightlifting, this exercise has mostly been replaced by barbell and dumbbell shrugs. That's a shame because, while unusual, this exercise is still a great muscle builder.
Muscles worked: Upper trapezius, levator scapulae.
How to do it:
Rest and hold a barbell on your upper back as if you were going to do back squats.
Shrug your shoulders up, lifting the bar as high as you can. Try and touch your ears with your shoulders.
Lower the bar back down and repeat.
Benefits:
A very effective upper trap exercise
Helps build a "bigger shelf" for comfier barbell back squats
A difficult exercise to cheat
12- Hip belt squats
A lot of old-school bodybuilders didn't have access to squat racks. While some used Steinborn squats, exercise #3 in this article, they often found that their weights were limited by how hard it was to get the bar into position. Hip belt squats provided a much better way to lift heavy weights in relative safety.
Muscles worked: Quadriceps, hamstrings, gluteus maximus, abductors, adductors.
How to do it:
Put on a chin/dip belt and load it with an appropriate weight. Carefully step up onto two sturdy benches or steps with your feet shoulder to hip-width apart.
Push your hips back, bend your knees, and squat down, lowering the weight between the platforms on which you are standing.
Stand back up and repeat.
Benefits:
No lower back strain
Less danger if you are unable to complete a rep
No need for a squat rack
Good for building muscle strength and size
FAQs
Do you have any questions? We've got the answers! If you can't find the answer you want below, drop us a line in the comments section, and we'll get back to you as soon as we can.
Are these forgotten exercises safe?
Any exercise has the potential to be dangerous if you do it incorrectly or you have pre-existing issues such as poor flexibility, weakness, or injuries. For example, the good morning could cause back injury, but if you are strong and healthy, it's not really any more dangerous than deadlifts or bent over rows. Use your common sense and, if an exercise causes pain, drop it from your workouts. Also, when learning a new exercise, start light and only increase your weights when you have mastered it.
Can't I just work out using machines? 
Of course you can, but there is no reason to limit your choice of exercises. Machines, dumbbells, barbells, kettlebells, and bodyweight exercises are all useful muscle building tools. Sometimes a machine IS your best option, but other times free weight or bodyweight exercises are best. Experiment with all types of exercise to determine what is the right option for you. And don't worry if your gym doesn't have state-of-the-art workout machines. Golden-era bodybuilders didn't have them either, and they managed just fine!
My trainer hasn't heard of half these exercises; are they legit? 
Most personal training certifications teach the most up to date workout methods and exercises. Unfortunately, that means a lot of traditional exercises are left off the syllabus and many trainers don't know about them. I've been a student of weightlifting, bodybuilding, and powerlifting for over 35 years (yes –  I'm old!) and that includes training and competing in all these sports. Just because an exercise is old, doesn't mean it isn't legit. It's also worth noting that a lot of seemingly new exercise methods are not actually new at all. Kettlebells? They've been around for hundreds of years!
Wrapping up
Exercises fall in and out of fashion. Some of the exercises that past bodybuilders used to rely on are no longer popular, and some are hardly remembered. That's a real shame because, despite losing their popularity, these exercises are still excellent muscle builders.
The next time you need a new exercise for your workout, why not try some of the best forgotten exercises? They worked way back then, and they will work now too!
References:
1 – The United States Al-Round Weightlifting Association: How Good Was Ed Zercher?
---