The 2022 Mile High Pro took place on June 11, 2022, in Denver, Colorado. Competitors from Men's Physique and Bikini took to the stage looking to earn the invitation to compete at Mr. Olympia in December.
The 2022 season of bodybuilding is underway with athletes gathering from around the world, presenting their physiques, in hopes to secure a coveted invitation to Mr. Olympia this winter. 2022 Olympia will take place from Dec. 15th – 18th in Las Vegas, NV.
2022 DC Pro-Am Winners
Men's Physique: Vitor Chaves
Bikini: Eli Fernandez
2022 DC Pro-Am Results
Men's Physique
One name that stood out to many pre-contest was Vitor Chaves. His last season in 2021 saw ups and downs, starting with a solid first-place performance at the 2021 Worldwide Amateur Olympia Brazil. While he was unable to reach the podium at the 2021 Musclecontest Brazil Pro, earning tenth place, he more than made up for it with an improved look this weekend.
Another standout heading into the 2022 DC Pro-Am show was Montae Bailey. Bailey competed at the 2021 Chicago Pro last year against a stacked lineup of talent. Despite earning ninth place, Bailey showed impressive improvements in his physique this weekend. After a heated battle on stage, Vitor Chaves walked away victorious, earning his invitation to compete at 2022 Mr. Olympia later this year.
Winner — Vitor Chaves
Second Place — Montae Bailey
Third Place — John Sarmiento
Fourth Place — Bryan Blackman
Fifth Place — Gary Cooper
Sixth Place — Napoleon Amos
Seventh Place — Daniel Leone
Eighth Place — Lamar McNeal Smith
Ninth Place — Adrian Thomas
Tenth Place — Juan Gochez
Bikini
Heading into the contest, many imagined that Eli Fernandez would be eager to turn in a statement-making performance. She had a busy season in the sport last year, competing at a total of seven IFBB Pro League shows. She is the returning champion this weekend after winning the 2021 DC Pro last June. Fernandez was also impressed at the 2021 Minneapolis Pro last year where she came in third. After the active season, she capped off the year at 2021 Mr. Olympia, a show which saw her place in fifth. She also took part in the 2022 Boston Pro, earning third place, respectively.
Meanwhile, Sierra Swann also attracted a lot of hype pre-show. The Bikini competitor has already taken part in a handful of IFBB Pro League shows this year. After failing to reach the podium at the 2022 Charlotte Pro (eighth place) and with a fifth-place performance at the 2022 GRL PWR Pro, Swann was out looking for redemption. She recently won the California Night of Champions and the Miami Muscle Beach Pro this year. In the end, Eli Fernandez kept her momentum with a signature victory at the 2022 DC Pro-Am show, earning her invitation to compete at the 2022 Mr. Olympia.
Winner — Eli Fernandez
Second Place — Sierra Swann
Third Place — Gabriella Mohamed
Fourth Place — Jessica Teles Machado
Fifth Place — Karene Gonzalez
Sixth Place — Jodie Yuncker
Seventh Place — Leslie Billups
Eighth Place — Jordan Brannon
Ninth Place — Michelle B. Simmons
Tenth Place — Jessica Miller
2022 DC Pro-Am Scorecards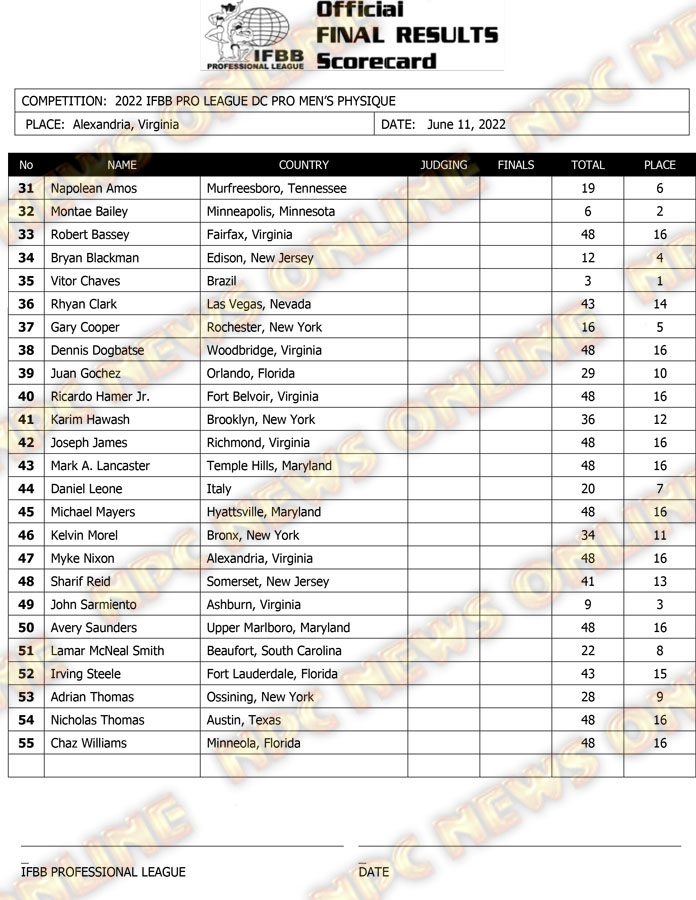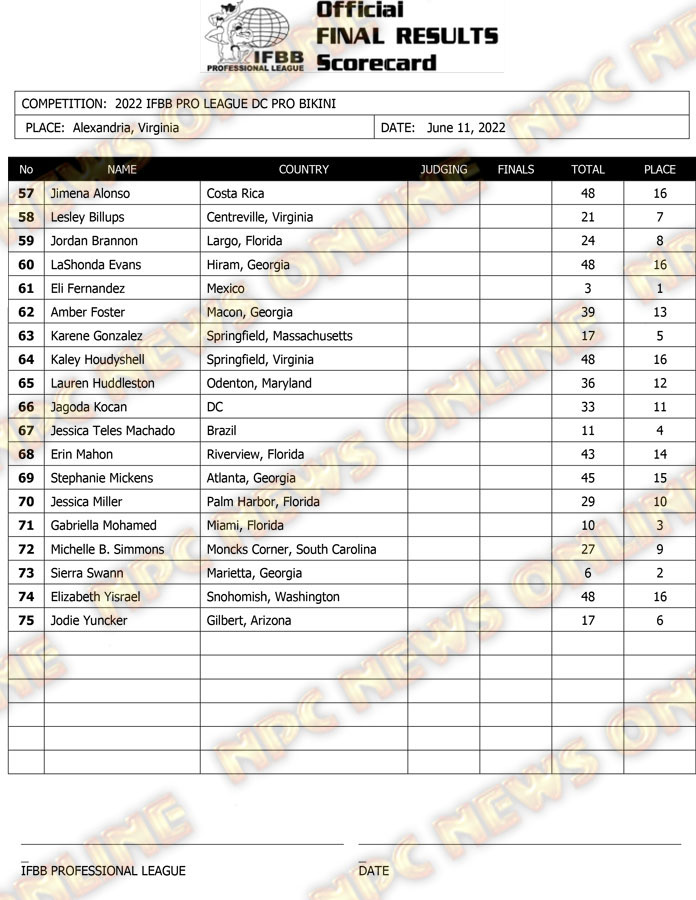 Anticipation for 2022 Mr. Olympia continues to grow! Fitness Volt would like to congratulate all the winners on their victory and earning their invitation to compete at the biggest show of the year!
---