The 2022 Mile High Pro took place on June 11, 2022, in Denver, Colorado. Competitors from Men's Physique and Bikini took to the stage looking to earn the invitation to compete at Mr. Olympia in December.
The 2022 season of bodybuilding is underway with athletes gathering from around the world, presenting their physiques, in hopes to secure a coveted invitation to Mr. Olympia this winter. 2022 Olympia will take place from Dec. 15th – 18th in Las Vegas, NV.
2022 Mile High Pro Winners
Men's Physique: Steven Cao
Bikini: Elisa Pecini
2022 Mile High Pro Results
Men's Physique
An early favorite heading into the contest was Men's Physique competitor Reuban Glass. Glass had a stellar 2021 season in the sport, having competed at a total of four IFBB Pro League Shows. Though, two performances that stood out amongst fans were his fourth-place showing at the 2021 Houston Tournament of Champions and then another fourth-place performance at the 2021 Pittsburgh Pro. Reuban competed last week at the 2022 Toronto Pro Supershow, where he nearly won the event after placing in second.
Another name many fans saw coming ahead of the 2022 Mile High Pro was Steven Cao. He competed at only one IFBB Pro League show last year but made it worth his time. He reached the podium in third place at the 2021 Europa Orlando. Cao competed at the 2022 Optimum Classic Pro last month in May, ultimately securing a sixth place.
In the end, Steven Cao won gold and earned his invitation to compete at 2022 Mr. Olympia.
Winner — Steven Cao
Second Place — Reuben Glass
Third Place — Frank Worley
Fourth Place — Tony Chinakwe
Fifth Place — Burak King
Sixth Place — Eric Lisboa
Seventh Place — Derrick Stevenson
Eighth Place — Joshua Guldry
Ninth Place — Francisco Rodriguez
Tenth Place — Justin Freeman
Bikini
Elisa Pecini made her highly anticipated return to the stage this weekend. After placing first at the 2021 Tampa Pro last year, many fans pegged her as one of the fastest rising stars in the Bikini division. Following a second-place performance at the 2021 Arnold Classic, Pecini next went to Olympia, a contest which saw her place in fifth. Accustomed to adversity, she returned to the 2022 Arnold Classic and secured fourth place, respectively. Following that she participated at 2022 Boston pro and New York pro, where she placed second respectively.
Ashley Kaltwasser was a commanding favorite heading into the contest. She has arguably put forth her most successful season in the sport this year. Kaltwasser earned gold at the 2022 Golden State Pro, Wasatch Warrior, and followed up those two victories with a second-place showing at the 2022 Pittsburgh Pro. Looking to remain busy, Kaltwasser brought her physique to the 2022 Toronto Pro Supershow last week and won the event handily.
Despite a razor-close battle with Kaltwasser, Elisa Pecini took first place, earning her invitation to 2022 Mr. Olympia. Pecini has made it clear following the victory that she intends to participate at the Patriots Pro and the Expo Super Show next!
Winner — Elisa Pecini
Second Place — Ashley Kaltwasser
Third Place — Liana Giannamore
Fourth Place — Carla Garthwalte
Fifth Place — Shanae DiCicco
Sixth Place — Taryn Flanagan
Seventh Place — Cory Hageman
Eighth Place — Jimi Marley
Ninth Place — Amber Wilberg
Tenth Place — Joy Sheppard
2022 Mile High Scorecards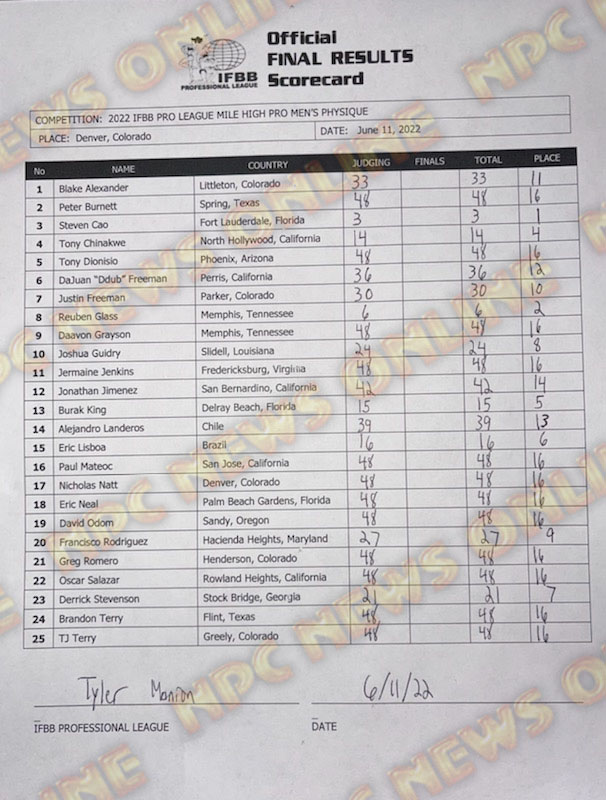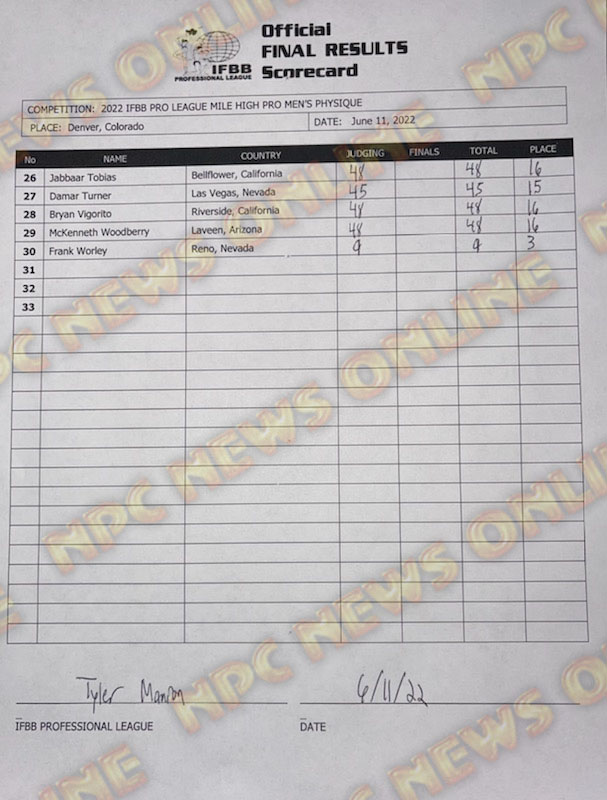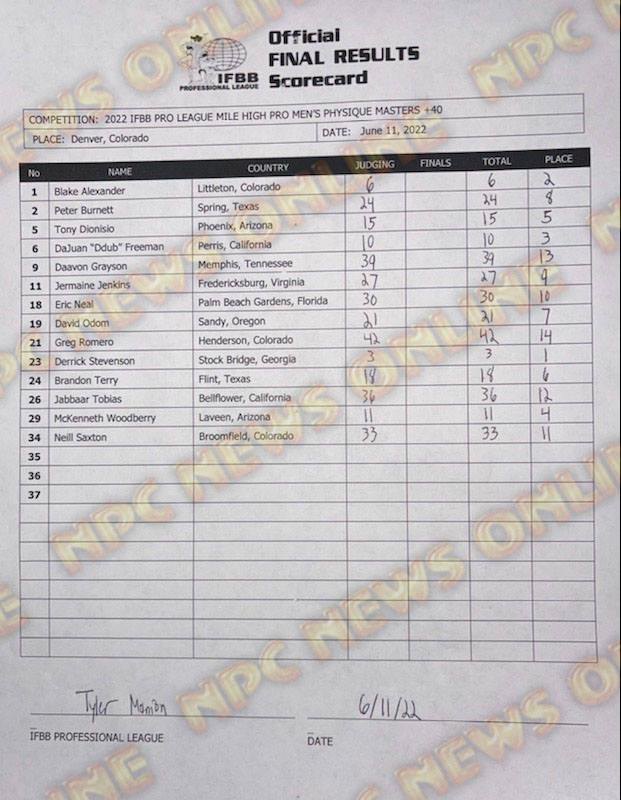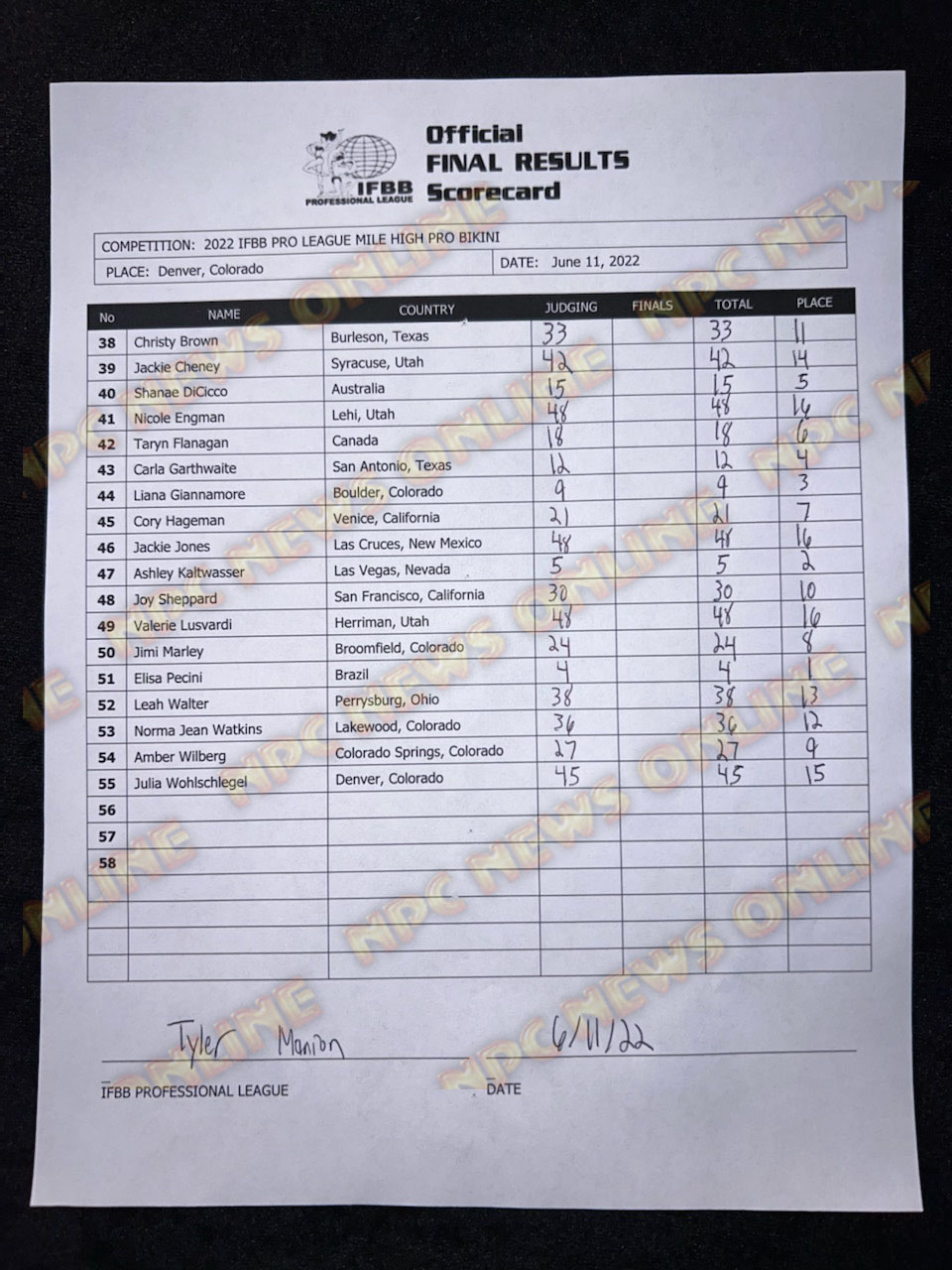 Anticipation for 2022 Mr. Olympia continues to grow! Fitness Volt would like to congratulate all winners on their victory and earning their invitation to compete at the biggest show of the year!
---