The 2022 Patriots Challenge Pro, an Olympia qualifier took place on June 18, 2022, in Las Vegas, Nevada. Competitors from Bikini took to the stage looking to earn the invitation to compete at Mr. Olympia in December.
The 2022 season of bodybuilding is underway with athletes gathering from around the world, presenting their physiques, in hopes to secure a coveted invitation to Mr. Olympia this winter. 2022 Olympia will take place from Dec. 15th – 18th in Las Vegas, NV. After a heated battle, Elisa Pecini walked away with her hand raised, earning the victory and an invitation to compete at 2022 Olympia.
2022 Patriots Challenge Pro Results
Bikini
Winner — Elisa Pecini
Second Place — Ashley Kaltwasser
Third Place — Malu Duarte
Fourth Place — Tara Grier
Fifth Place — Hi Yeun Kim
Sixth Place — Amber Wilberg
Seventh Place — Jessica Wilson
Eighth Place — Hope Harper
Ninth Place — Sara Devore
Tenth Place — Kaley Houdyshell
One of the most dominant Bikini competitors in the division returned over the weekend in Ashley Kaltwasser. Kaltwasser is revered for her activity level and willingness to stand against anyone on stage.
Ashley has competed at a number of IFBB Pro League shows this year. Kaltwasser secured gold at the 2022 Legends Pro, Golden State Pro, and the Wasatch Warrior Pro. She has already earned her invitation to compete at 2022 Olympia. Kaltwasser's physique has only become more dangerous lately, which was evident after she won the overall Bikini title at the 2022 Toronto Pro Supershow a few weeks ago. While Ashley attempted the 2022 Mile High Pro show, she found herself in second place behind veteran Elisa Pecini.
In addition to Kaltwasser, another top Bikini competitor fans were keeping a close eye on was Elisa Pecini. Pecini gathered a lot of steam following a fourth-place showing at the 2022 Arnold Classic. Days later, she took her physique to the Boston Pro, where she managed to come in second place. Despite the unfavorable results, she never let her foot off the gas in training and it showed. She also placed second in 2022 New York Pro.
Pecini entered this weekend's Patriots Challenge Pro with a ton of momentum. A week ago, Pecini won the Mile High Pro, defeating familiar foe Ashely Kaltwasser, who took second. After an incredibly close battle, Elisa Pecini once again defeated Kaltwasser en route to gold, earning her invitation to compete at 2022 Olympia later this year.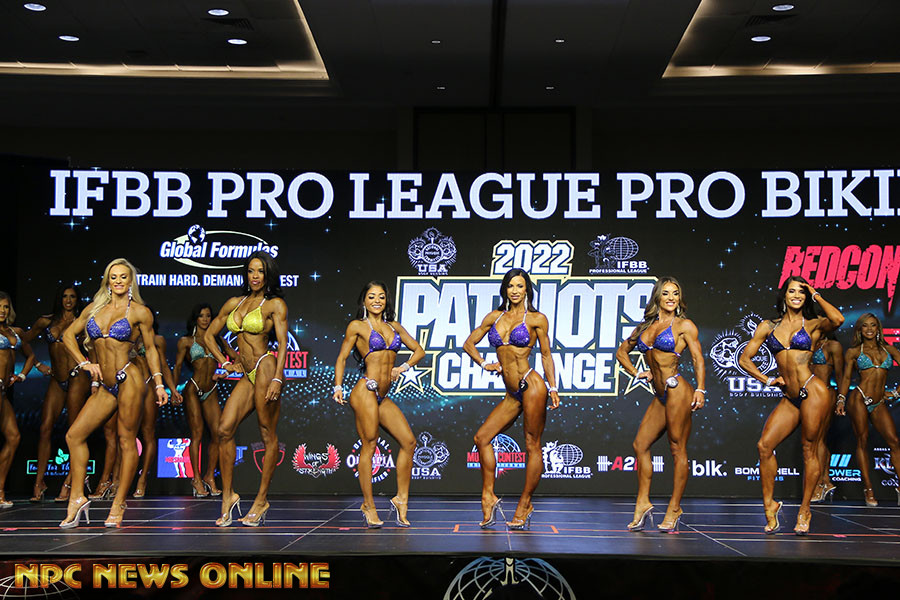 2022 Patriots Challenge Pro Scorecards
Anticipation for the biggest show of the year continues to build. Fitness Volt would like to congratulate the winner on their major victory at the 2022 Patriots Challenge Pro!
---