According to studies, over eighty percent of adults will experience some form of back pain during their lifetimes (1). While many of these cases are mild and short-lived, some of us will experience recurring, debilitating back pain.
Back pain is the single leading cause of disability, preventing many people from working. It's the third most common reason for visits to the doctor's office (2).
Lots of factors can lead to back pain, from being overweight to automobile accidents to occupational stress to pregnancy to poor posture. We also know that physical activity can help make back pain less debilitating and may help prevent it in the first place.
However, many of the things we do in the gym can directly result in back pain, both acute and chronic. While you might be able to work around mild back soreness, severe back pain can stop you from walking, let alone going to the gym.
Gym-related back injuries are quite common and can be very serious. Given the enormous weights and stresses involved in hardcore strength training, it's no surprise that injuries happen. But, as with elbow, shoulder, and knee pain, there are plenty of things you can do to avoid becoming a casualty yourself.
In this article, we're going to examine the major causes of gym-related back pain and provide you with 15 practical strategies for avoiding it.
Back Anatomy Basics
Doctors spend years learning about the intricacies of the spine, so it goes without saying that, in this article, we're barely going to skim the surface of how your back works. That said, by the end of this section, you'll have reasonable knowledge of the bones and muscles that make up your spine so that you can look after them better and avoid future back pain.
Your spine is made up of 33 vertebrae. Each individual vertebra is a different size and shape. Where vertebrae is the plural, vertebra is the singular form. The 33 vertebrae are divided into five sections:
7 cervical vertebrae – the neck
12 thoracic vertebrae – the upper back
5 lumbar vertebrae – the lower back
5 sacral vertebrae – the base of the spine
4 coccygeal vertebrae – the "tail bone"
The sacral and coccygeal vertebrae do not move and are fused. However, the lumbar, thoracic, and cervical vertebrae can flex, extend, and rotate. Of all the sections of the spine, the lumbar region is the most prone to injury.
The vertebrae themselves are separated and cushioned by fibrous pads called intervertebral discs. These discs have a tough outer shell and a softer, gelatinous center. They're flexible, so you can bend, extend, and rotate your spine.
While the intervertebral discs are VERY strong, they can be compressed, distorted, torn, and ruptured. Once damaged, they can be hard if not impossible to repair and may even have to be removed.
The spine itself is held together by ligaments. Ligaments are avascular, meaning they have a very poor blood supply. Like intervertebral discs, ligaments take a very long time to heal. Ligaments are inelastic, and while they will stretch a little, they do not "spring back" like rubber bands. Instead, they can become overstretched and lax.
There is a long list of muscles that control the movements of the spine. Some, like rectus abdominus, are well known and obvious. At the opposite end of the spectrum, there are tiny muscles located between the vertebrae that control smaller, individual movements.
The main muscles that control your spine are:
Rectus abdominis – located on the front of your abdomen and responsible for flexion and lateral flexion of the spine.
Obliques – the waist muscles, and responsible for lateral flexion and rotation of the spine.
Erector spinae – a group of eight muscles that extends your spine and is also involved in lateral flexion.
The core – the collective term for the midsection muscles that support your spine by creating intra-abdominal pressure (IAP). The core includes your rectus abdominis, obliques, erector spinae, transverse abdominis, multifidus, diaphragm, and pelvic floor muscles.
Despite its obvious complexity, the spine is only capable of four movements, which are:
Flexion – bending forward
Extension – bending backward
Lateral flexion – bending sideways
Rotation – twisting
These movements can be combined, for example, flexion and rotation, like when you do something like a twisting crunch.
Types and Causes of Back Pain
In most cases, back pain is caused by poor posture and heavy loads. This combination of events is all too common in the gym and places uneven and potentially injurious forces on the structures of the spine. This can cause short-term back pain and injuries, as well as chronic conditions that are very hard to treat.
It is not the aim of this article to identify the nature of existing back pain. That's a job for a qualified medical professional. However, some of the conditions that we hope to help you avoid include:
Bulging disc – the disc is compressed and distorted, putting pressure on adjacent nerves. Bulging discs be caused by supporting heavy weights.
Herniated disc – the nucleus of a disc bursts out of the protective outer shell.
Ligamentous sprains – damage to an intervertebral ligament caused by overstretching.
Muscle strains– caused by overexertion
Pinched/compressed nerves – nerves trapped between bony prominences that can cause local inflammation as well as radiating pain, such as sciatic nerve pain.
Vertebral fracture – caused by extreme ranges of motion, especially under heavy loads.
Osteoarthritis – wear and tear of the vertebrae.
15 Ways to Avoid Back Pain in the Gym
With so much to go wrong with your back, it goes without saying that preventing back pain is better than trying to cure it. To that end, here are 15 strategies for avoiding a painful back.
You could also use these methods to train through very mild back pain and stop it from worsening. However, if your symptoms persist or worsen, you should stop training and get it checked out by a qualified medical professional, preferably one who specializes in back pain and sports injuries.
1. Brace like a boss!
Bracing is one of the most important things you can do to avoid back pain. Bracing increases intra-abdominal pressure, which basically helps support your lumbar spine from within, taking stress off your discs and ligaments. It also makes it much harder to round your lower back – the next point in this article.
Bracing should be something that you do automatically, but too much time spent sat down may mean your body has forgotten this essential skill. Don't worry; with a little practice, you'll be able to brace without thinking about it too much.
To brace, contract your pelvic floor as if you were trying to stop the flow of urine and avoid breaking wind. This "seals" the base of your core. Next, brace your abs as if you were expecting to get punched in the stomach. Don't pull your abs in. Instead, think about trying to flatten your gut. Finally, inhale but, instead of breathing high into your chest, direct your air down into your stomach.
Your entire midsection should now feel strong and stable. Poke it with your fingers, just to check. This pressure will diminish when you exhale. Reset your core and repeat.
The trick with bracing is to maximize your IAP when you need it the most. For example, you might inhale at the start of a squat and then start to exhale as you pass halfway on the way back up. With something like seated rows, you would inhale as you pull the bar into your midsection, and then exhale as you extend your arms.
Your breathing pattern depends on the exercise you are doing, but your IAP should be highest when you are in the most demanding position. For some lifts, especially when lifting heavy weights, this might even mean holding your breath for both the lifting and lowering phases. However, this does mean your blood pressure will rise dramatically, so only do this if it's absolutely necessary, and it's safe for you to do so.
Needless to say, bracing well requires good core strength, so don't neglect this important muscle group in your training.
2. Do not lift heavy weights with a rounded back
We have a saying in strength training; a rounded back is a weak back. This refers specifically to your lumbar spine. The spine is curved and has two (lordotic) inward and two (kyphotic) outward curves.
These curves ensure that stress is distributed evenly throughout your spine and allows your spine to act like a spring for shock absorption during high impact activities, such as jumping and running.
If you round your lower back, what should be an inward curve becomes an outward curve. This puts a lot of stress on the passive structures of your spine, namely the intervertebral discs and spinous ligaments. In an arched or neutral position, this stress is borne by your muscles.
In low-stress situations, such as bending over to tie your shoelaces, a rounded lower back is no big deal. But, add a heavy weight to the equation, and you could end up seriously injured.
Some exercises actually involve rounding your lower back, such as crunches. But, when doing them, you aren't supporting a lot of weight. In contrast, bent over rows, deadlifts, and squats with a rounded back are very dangerous.
Of course, there ARE exceptions to this rule; some Strongman competitors and powerlifters lift huge weights with a rounded back. However, you only have to look at these people to see they are not typical human beings!
Just because someone like Eddie Hall can deadlift 500kg with a rounded back doesn't mean you should try and emulate him. Reduce your risk of lower back pain by maintaining your natural lordotic lumbar arch.
3. Watch your leg press depth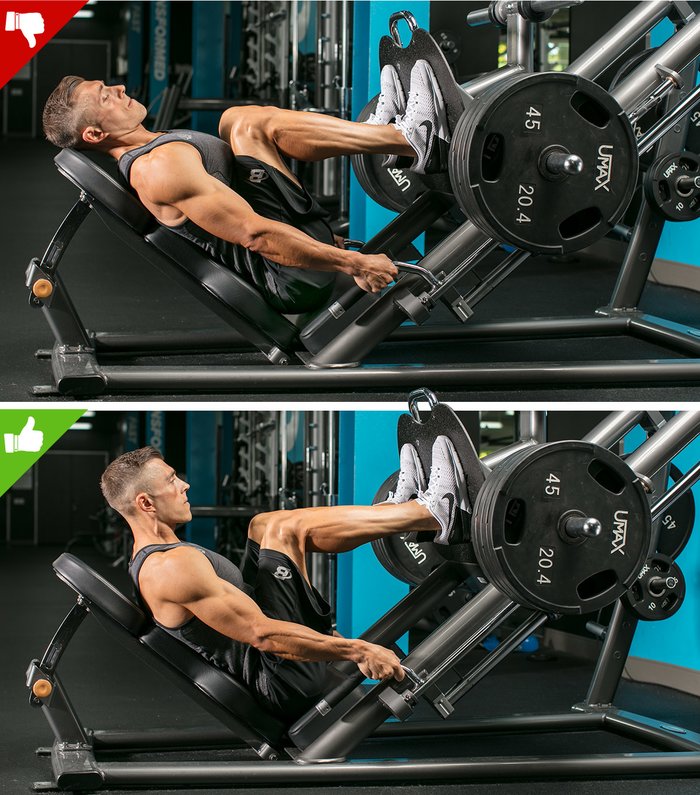 Many exercisers assume that, because your back is supported during leg presses, it's far safer than things like squats and deadlifts. While the back support can be helpful, it doesn't automatically make the leg press a safe exercise.
If you descend too far, you may find that your lower back starts to round, despite the safety provided by the back support. In fact, by fixing your upper back against the pad, the only part of your back that can move is your lower back.
Avoid this problem by ensuring your lower back is tightly and slightly arched all through your leg press workout. Push your butt back into the seat, and do not let it slide forward. Do not bend your legs so far that your pelvis starts to tilt, and your back flattens against the backrest.
Most people can leg press heavy weights, and rounding your lower back exposes your spine to a whole lot of potentially injurious stress.
4. Don't lock your knees during bent-over exercises
Locking your knees disengages your glutes so that, when you lean forward, more of the weight you are lifting, even if that's just the weight of your upper body, is supported by your lower back and hamstrings. You are also more likely to round your lower back, as discussed above.
Your glutes are large, powerful muscles, and removing them from your posterior chain could lead to an acute back injury and chronic back pain.
Instead, when you lean forward, make sure you always have a slight bend in your knees. This reengages your glutes, spreading the load across more muscles.
Read also
5. Take care with unbalanced loads
Here at Fitness Volt, we like training with unbalanced loads. Things like single-arm farmer's walks, one-arm overhead presses, and suitcase deadlifts work multiple muscle groups as well as your core. But, if you allow that unbalanced load to push or pull your spine over to one side, you could end up experiencing back pain.
If you load one side of your spine more than the other, the intervertebral discs get squeezed sideways. This can put pressure on adjacent nerves and also lead to lateral disc herniation. Plus, when you lean to the other side, the protruding disc can get pinched. All of which are sources of back pain.
Avoid problems like these by keeping your torso vertical even if you are using unbalanced loads. We don't mean you can't hinge forward. Instead, we're saying don't lean sideways. Brace your core to ensure your spine remains correctly aligned and that you do not lean toward or away from the load.
You should also take care while doing dumbbell side bends. This is not an inherently bad exercise. It's just that, done with a heavy dumbbell, it's all too easy to lean too far over and trigger an otherwise avoidable bout of back pain. Isometric exercises like side planks and Pallof presses are safer and more spine-friendly.
6. Ditch the barbell waist twist
The barbell waist twist is an exercise that works your obliques. However, it's also one that most people should avoid. It involves holding a barbell on your upper back and then twisting left and right, and it can be done seated or standing.
There are several issues with this exercise. For starters, the weight is pushing down vertically, but your muscles are working horizontally, so it's not an effective way to train your obliques. Even if you use heavy weights, there is very little resistance to rotation.
Secondly, compressing and then rotating any joint is a recipe for serious injury. The pressure on the discs during this exercise is immense.
Finally, with a long bar on your shoulders, there is potentially a lot of momentum. That could lead to rotating further than you intended to, putting stress on the spinous ligaments.
If you want to do a rotary core exercise, try something like cable wood chops. The resistance is horizontal, so it's better for your muscles, there is no spinal compression, and it's much easier to control your speed and range of motion.
And, by the way, barbell waist twists won't shrink your waistline. That's nothing more than an old bodybuilding myth.
7. Wear and use a weightlifting belt properly
Some people wear a weightlifting belt to prevent back pain. However, there is more to using a belt than just putting it on and doing it up. In fact, treating a belt as a passive support could increase your risk of injury. Wearing but not working with your belt correctly gives a false feeling of security, which could lead to poor exercise technique or lifting more weight than you should.
Instead, to protect your lower back, you need to work WITH your belt.
Back in point #1, we talked about bracing. The problem with bracing is that your abs can bow outward during strenuous exercise, leading to a loss of intra-abdominal pressure. It doesn't matter how strong your abs are; if IAP gets too high, like when you are under a very heavy squat, your abs will bulge, and you run the risk of putting a lot of stress through your lower back.
Wearing a belt gives you something to forcefully push your abs into to create even more IAP.
To get anything from a belt, you need to brace and push your midsection out into the belt. Not just at the front but at the sides too. This takes coordination and practice, but once mastered, your IAP will soar, and your core will be more solid than ever before.
The stiffer and wider the belt, the more IAP you'll be able to generate. That's why powerlifters use thick leather belts that are the same width or even wider at the front than the back. The typical old-school belt design where the back is much broader than the front is nowhere near as effective.
8. Give your back a break with unilateral leg exercises
For building size and strength, squats and deadlifts are hard to beat. But, on the downside, as you get stronger and your weights increase, so too do the compressive forces on your spine.
Eventually, all that heavy lifting can lead to disc degeneration, which means the discs lose their elasticity and remain flat, leading to reduced intervertebral space and back pain.
If you always squat and deadlift heavy, try doing some unilateral leg exercises to give your spine a break. Working just one leg at a time means you won't be able to use anywhere near as much weight, and your spine will thank you for the respite.
Good unilateral exercises that you can use to build muscle strength and side include:
Single-leg Romanian deadlifts
Single-leg good mornings
Single-leg squats (pistols)
Lunges
Bulgarian split-squats
Here is a guide to the five best unilateral leg exercises.
9. Go easy if you train early in the morning
While you sleep, your discs expand, and your spine decompresses so that, on waking, you are marginally (about ¾ of an inch) taller than you were when you went to bed.
Muscles relax too. While this is all good news for your spine, you have also been in a relatively static state all night, so your body is not really ready for heavy training early in the morning.
Lifting hard and heavy before your body is ready is a good way to end up hurting your back.
Needless to say, you should ALWAYS warm-up before your workouts but, if you train first thing in the morning, your warm-up is even more essential. Spend some extra time mobilizing your spine and include a few more warm-up sets if you plan to lift heavy. Also, monitor how your lower back feels. Ease back if anything feels off.
Experts like to argue about the best time to work out and, most of the time, the answer is whenever is most convenient. But, when it comes to heavy training like squats and deadlifts, later in the day may be marginally safer for your back.
10. Avoid hyperextending your spine
Just because you can do something doesn't mean you should. One example of this is leaning back at the top of your deadlifts. Leaning back does not increase this exercise's effectiveness, nor will you score extra points with the judges if you are in a powerlifting meet.
Instead, it puts extra stress on the facet joints of your spine, creating unnecessary wear and tear. And, if you have a posteriorly bulging disc, you increase your risk of herniation and putting pressure on any adjacent nerves.
Exercisers also hyperextend their spines during back extensions, hip thrusts, kettlebell swings, pull-ups, bench presses, pulldowns, and overhead presses.
Brace your core, lift your chest, and maintain an upright posture. It's very rare that you need to overextend your lumbar spine.
11. Keep your back warm
One way to ward off back pain is to keep the affected area warm. Even if you aren't directly training your back, it's still involved every time you bend over to pick up a dumbbell or load up your barbell.
Wearing a neoprene back warmer will increase blood flow and temperature to keep your muscles warm and pliable. This is a lot like wearing neoprene knee or elbow sleeves to prevent joint pain.
12. Stop the high-rep abs training
We're not fans of high rep abs training. Invariably, it's just a waste of time. If you can do 30, 40, or 50 reps of any abs exercise, it's too easy to be beneficial. Instead, we mostly prefer core exercises that take you to failure in 20 reps or less, and preferably 8-15.
Another reason we don't like high-rep abs training is that it puts a lot of stress on your spine. Imagine your spine is a hinge, and, like any hinge, parts of it can wear out. If your abs workouts involve set after set of high-rep crunches, sit-ups, side bends, leg lifts, etc., it's bound to increase the wear on your spine.
But, unlike a hinge, you can't just whip out your spine and replace it. Accumulated wear and tear can lead to disc degeneration, inflammation, pain, and even osteoarthritis.
So, instead of wasting your time on high-rep core training, and wearing out your spine in the process, seek out more challenging abs exercises that force you to work in a lower rep range. Not only will you spare your spine, but you'll also get better results from your training in less time.
13. Go easy on the impact
If you want to burn fat and get fit, you need to do cardio. However, some cardio exercises can cause or exacerbate back pain. Jogging, running, and jumping all have a jarring effect on your spine. This is especially true for bigger, heavier exercisers.
Low-impact cardio exercises like swimming and cycling can be every bit as effective for fitness and fat loss as high-impact training. You can also develop your cardiovascular fitness with non-cardio exercises, such as these five tried and tested strength complexes.
The bottom line is that you don't have to run to get fit and control your weight. The same is true for jumping exercises and power development. There are lots of low-impact alternatives to things like box jumps and hurdle hops that are easier on all your joints, including your lower back.
14. Stretch your hamstrings
We've already discussed why you shouldn't round your back while lifting heavy weights, but we haven't really addressed the causes of this problem. For some exercisers, it's a lack of core strength, while for others, it's just a bad habit. However, another common cause is tight hamstrings.
Your hamstrings are a biaxial muscle, meaning they cross and affect two joints. They are responsible for the extension of your hip and the flexion of your knee. If your hamstrings are tight, when you lean forward, you won't be able to hinge from your hips very well. As a result, you are more likely to round your lower back. If you have good core strength and still round your lower back during Romanian deadlifts, bent-over rows, and any other hip hinge exercise, tight hammies might be the cause.
Improve your hamstring flexibility by stretching them. Not just during your cool down after your weekly leg workout but several times per day. Also, try stretching them before you attempt any hip hinge movements, such as deadlifts or kettlebell swings.
Stretching before training may reduce your strength, but any reduction will be minimal. And, in return, you are less likely to round your lower back and end up injured.
There are lots of different ways to stretch your hamstrings, but as you'll need to spend a minute or so on each leg, you might as well choose a stretch that's comfortable to do. That's where the supine assisted hamstring stretch comes in!
To do this exercise:
Lie on your back and raise one leg.
Loop a belt or strap over your raised foot and use your arms to gently pull your leg toward you. Your knee should be straight but not locked.
Gently increase the stretch as you feel your hamstrings relax. Stretch for 30-60 seconds or longer. Do not force the stretch; if your leg starts to shake or you feel any kind of burning sensation, you should ease off as you are in danger of causing an injury.
Related: Best Hamstring Exercises Bodyweight-Training Only.
15. Pay attention to your back outside of the gym too
A lot of workout-related back pain is actually caused by what you do outside of the gym. Long periods of sitting affect your posture, weakens your glutes and core, and can lead to tight hamstrings too. Then, when you hit the gym, your workout tips you over the edge and into injury city; it's literally the straw that breaks the camel's back.
While what you do during your workout matters, your gym time is only a small part of your day. Your activities and habits outside the gym are every bit as important for avoiding back pain and injuries.
Pay attention to the following to reduce your risk of gym-related back pain:
Sit in good posture, with your lower back slightly arched and not rounded. Choose chairs with good lumbar support.
Practice good lifting technique even if you are only lifting something light, i.e., hinge from your hips, don't round your lower back, and use your legs.
If you have to carry something heavy, try to split the load evenly between both sides. Carry two lighter grocery bags instead of just one, and don't sling your backpack or handbag over one shoulder.
Get up and move every hour or so to keep your lower back loose. Long periods of sitting are very detrimental to back health.
Drink lots of water. Dehydration is a leading cause of back pain. There is a strong link between dehydration, decreased intervertebral disc volume, and lower back pain (3).
Get a firmer mattress. A very soft bed makes it impossible to sleep with a properly aligned spine. Also, avoid using so many pillows that your neck is out of alignment.
It's not enough to take care of your back during your workouts; staying free from back pain is a full-time job!
Wrapping Up
Back pain is a common problem. While it's something that four out of five adults will experience, that doesn't mean you have to just accept it. There are lots of things you can do to avoid back pain in the gym, as well as plenty of things you can do outside the gym too. Back pain can be hard to fix, so prevention is your best line of defense.
The good news is that lifting weights and staying fit can help reduce back pain frequency and severity, providing you train sensibly and safely, that is.
Use the information in this article to train through mild back pain or avoid it in the first place. Remember, though, if your back doesn't start feeling better soon or starts to get worse, you should seek medical advice.
Related: Lower Back Pain: Common Causes and Prevention For Athletes.
References:
1 – PubMed: The Rising Prevalence of Chronic Low Back Pain [source]
2 – American Chiropractic Association: Back Pain Facts and Statistics [source]
3 – Research Gate: Characteristics of back pain in young adults and their relationship with dehydration: a cross-sectional study [source]