3. The Dumbbell Bench Press
Wrong Way 🙂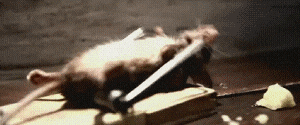 Correct Way!
The dumbbell bench press is somewhat inspired from the barbell bench press but with some differences. While in the dumbbell bench press you are required to balance both the weights individually while lifting them. This will enforce deeper stretch and better symmetry as compared to the barbell bench press.
Sit at the end of the bench in such a way that the dumbbells rest against your abdomen and thighs, now carefully lay back on the bench and put the dumbbells onto your chest in the vertical position.
Now release the dumbbells from your chest and carefully shift the load onto your hands. Make sure to adjust such that the level of the dumbbells goes slightly below the level of your chest. Now simply apply force and press the dumbbells to the full extension.
Now after you've completed the number of sets and reps for the dumbbell bench press, you are supposed to return to the initial position. Slowly release the load from the dumbbells and make them rest on your chest and then raise your body in a sitting position such that the dumbbells are now resting on your thighs and abdomen.
Alterations- To make sure each and every muscle gets fired up you can modify this exercise such that the sides of the dumbbells touch at the topmost position.
Continued on the next page…