Weighted bars, also called body bars, are very useful exercise tools. Where barbells are usually adjustable and loaded with weight plates, weighted bars are fixed weights and cannot be adjusted. Covered with a layer of foam for enhanced grip and comfort, you can use a body bar to work just about every part of your body.
Because they are very simple, body bars tend to be cheaper than barbells, making them perfect for home use.
You can use a weighted bar to replicate most barbell exercises and even use them for fat burning, cardio fitness boosting complexes. They make an excellent addition to circuit training workouts and can be used in conjunction with bodyweight and dumbbell exercises or used on their own.
In short, weighted bars are VERY versatile!
Got a weighted bar but aren't sure how to make the most of it? We've got you covered! In this article, you'll find 24 of the best weighted bar exercises plus an easy to follow full-body workout.
24 Weighted Bar Exercises
Before doing any of these weighted bar exercises, take a few minutes to prepare your muscles and joints by warming up. Do some light cardio, such as jogging or jumping rope, and some dynamic stretches and joint mobility exercises. Warming up may reduce your chances of injury and will definitely improve workout performance.
Leg exercises: If you want to sculpt a strong, toned lower body, these are the exercises you need to do. Each one works a combination of your quadriceps, hamstrings, gluteus maximus, inner and outer thighs. No workout is complete without at least a few lower body exercises!
Leg exercises also tend to increase your heart and breathing rate, so they're useful for cardio and fat burning too.
1. Back squats
Back squats are so-called because they involve resting and holding your body bar across your upper back. Considered by many fitness experts to be the king of exercises, squats are also very functional. They replicate many of the movements we do daily, such as sitting down in a chair or getting out of a car.
Read more about barbell squat.
2. Front squats
Front squats are a little trickier than back squats because they involve holding your weighted bar across the front of your shoulders. This allows you to keep your torso a little more upright, making them more quad-dominant than back squats. However, they also require more upper body flexibility.
If you've mastered back squats, front squats could be your next challenge.
Read more about front squat.
3. Lunges
Like squats, lunges work all of your lower body muscles. However, lunges are a unilateral exercise, which means you'll be using one leg at a time. This is good for hip mobility and balance, as well as working your leg muscles. Lunges are especially useful for runners, as the movement is very similar.
4. Deadlifts
Unlike deadlifts done with a barbell, weighted bar deadlifts start from the standing position. Why? Because, with no weight plates on the bar, it would be impractical to lift your body bar off the floor. Think of this exercise as a top-down deadlift rather than a conventional ground-up deadlift.
How to do it:
Hold your weighted bar with a shoulder-width overhand grip. Stand with your feet about hip-width apart. Brace your abs and stand up straight.
Bend your knees and push your hips back, lowering the bar down to about mid-shin height. Do not round your lower back.
Stand back up and repeat.
Do not bend your arms; keep them straight when doing this weighted bar exercise.
5. Romanian deadlifts
Like exercise #3, this deadlift variation starts in the standing position. But, this time, your knees remain stationary, and most of the movement comes from your hips. As a result, your glutes and hamstrings end up doing more of the work, and your quadriceps are much less involved.
Read more about barbell romanian deadlift.
6. Step-ups
Step-ups, like lunges, involve one leg at a time. Providing you have a stable platform to use for step-ups, this weighted bar exercise is an excellent way to work your quads, hamstrings, and glutes. The higher the step, the more demanding this exercise becomes.
Read more about step up exercise.
7. Sumo deadlifts
Sumo deadlift variation involves using a much wider stance than weighted bar exercise #3. Stepping out wide increases inner and outer thigh muscle recruitment. Like any deadlift variation, do not allow your lower back to become rounded when you do this exercise.
Read more about barbell sumo deadlift.
8. Hip thrusts
Most weight bar exercises for the legs are compound moves. That means they involve several joints (and lots of muscles) working at the same time. Hip thrusts involve a lot less knee movement, which means that mainly work your glutes and hamstrings. This is a good exercise for anyone with a sore lower back, as it involves much less low back stress than any of the deadlift variations.
Read more on hip thrust.
Chest, back, and shoulder exercises: These are the best weighted bar exercises you can do for your chest, back, and shoulders. Use them to sculpt the upper body of your dreams!
9. Floor press
A lot of home exercisers do not have the luxury of a workout bench. This means, if you want to work your chest, you'll need to lie on the floor. The good news is that floor presses are an effective chest exercise that's been around since the beginning of strength training history. Don't think that, with the floor press, you are just "making do." This weighted bar exercise is a legitimate bench press and chest press alternative.
Read more about floor press.
10. Single-arm floor press
Have you mastered the regular two-arm floor press? Good for you! Challenge your chest, shoulders, and triceps again by doing this exercise with just one arm. This will increase not only the weight but also the demand for stability and balance. You'll also feel this exercise more in your core.
How to do it:
Lie on your back with your legs bent and feet flat on the floor. Hold your weighted bar in one hand with your arm straight and vertical. Grip the center of the bar for better balance. The bar should be in line with your body.
Brace your abs and bend your arm, descending until your elbow lightly touches the floor.
Push the bar back up and repeat.
11. Bent over rows
Bent over rows work your lats, mid-traps, rhomboids, posterior deltoids, and biceps. Your legs and lower back also get a workout. Take care not to round your back when you do this exercise, which could lead to injury.
Read more about bent over row
12. Single arm bent over row
You can also do weighted bar bent-over rows using just one arm at a time. This increases the weight, and you'll also have to work a little harder to keep your shoulders and hips level. But you can use your free hand to stabilize your body, taking stress off your lower back.
13. Shoulder press
As the name implies, this exercise works your deltoids, more commonly called your shoulders. In addition, it also involves your triceps and, because you are doing it in the standing position, your abs get a workout too because they have to stabilize your spine.
More about overhead press
14. Front raises
Front raises are an anterior deltoid exercise, which means they work the front of your shoulders. Make sure you brace your core hard when doing this exercise, as raising both arms in front of you can pull you off balance. You'll need to use your core to keep your torso upright.
Read more about barbell front raise
Arm exercises: Your biceps and triceps might be small compared to your chest, back, and shoulders, but that doesn't mean they aren't important. Fill your sleeves with these weighted bar exercises for your arms.
15. Skull crushers
This triceps exercise is so-called because, if you lower the bar too far or too fast, you could hit yourself in the head! That said, because most body bars are a) light and b) covered in foam, this is much less likely than when you're using a barbell. Still, you should always do this exercise slowly and with control to avoid skull-crushing accidents!
Read more about lying barbell tricep extension
16. Standing triceps extensions
This triceps weighted bar exercise can be tricky because it requires excellent upper body flexibility and shoulder mobility to get your arms into the correct position. But, if you can do it, this is a superb triceps toner and builder. However, if you have to lean back or contort your shoulders to get into the right position, this may not be the exercise for you.
Read more about overhead ez-bar tricep
17. Biceps curls
Biceps curls are one of the most popular exercises on the planet! Get the most from this move by keeping your core tight, your upper arms pinned to your sides, and not using your legs or back to help you lift the weight. That would be cheating.
Read more about barbell biceps curls
18. Single-arm biceps curl
If you've grown too strong for your body bar, you may need to progress from two-handed biceps curls to the single-arm version. This not only increases the weight, but it also means you'll need to stabilize the weight to keep it balanced. This increases forearm, core, and shoulder activation.
How to do it:
Using one hand, hold your weighted bar in the middle with an underhand grip. Stand with your feet about shoulder-width apart for balance. Brace your abs. Tuck your upper arm into your side and keep it there.
Bend your arm and curl the weight up to your shoulder. Do not lean forward, backward, or to the side. Try to keep the bar level.
Lower the weight and repeat.
Core exercises: Core is the collective term for the muscles that make up your midsection, namely your rectus abdominis, obliques, transverse abdominis, and erector spinae. Use these weighted bar exercises to strengthen your core and sculpt that tight, firm midsection you've always wanted!
19. Side bends
This weighted bar exercise targets your obliques, but erector spinae and rectus abdominus are involved too. Get the most from this move by imagining you are pinned between two panes of glass and can't lean forward or backward. Make sure you only bend sideways.
How to do it:
Rest and hold a barbell across your upper back. Bend your knees slightly and brace your abs.
Without twisting your hips or your shoulders, lean over to the left and then to the right.
Make this exercise much harder by raising your arms above your head.
20. Crunches
Crunches work your rectus abdominis, which is the muscle on the front of your abdomen. If you want a six-pack, this is the muscle you need to train but, unless you are lean, you won't be able to see it. You'll need to diet and work out to get ripped six-pack abs!
How to do it:
Lie on your back with your legs straight, toes raised to the ceiling. Hold your weighted bar over your chest, arms straight.
Lift your head, shoulders, and upper back off the floor using the strength of your abs. Keep your arms straight and vertical.
Lie back down and repeat.
You can also do this exercise with bent knees, which is easier.
21. Kayakers
Kayakers work your rectus abdominus and obliques. This is not an easy exercise, but it is a rewarding one. You'll definitely feel this weighted bar exercise working your core!
How to do it:
Sit on the floor with your legs bent. Hold your weighted bar in both hands using an overhand, roughly shoulder-width grip. Lift your feet a few inches off the floor.
Without lowering your legs, move your arms like you are paddling a canoe. Move your legs to maintain your balance if necessary.
Continue for as long as you can maintain good form.
Whole-body exercises: These weighted bar exercises involve lots of muscle groups working together. They're ideal for those times when you want to work out but don't have much time or need to do something that burns a lot of calories and elevates your heart rate. These aren't the easiest exercises to master, but they are some of the most fun and rewarding!
22. Sumo deadlift high pulls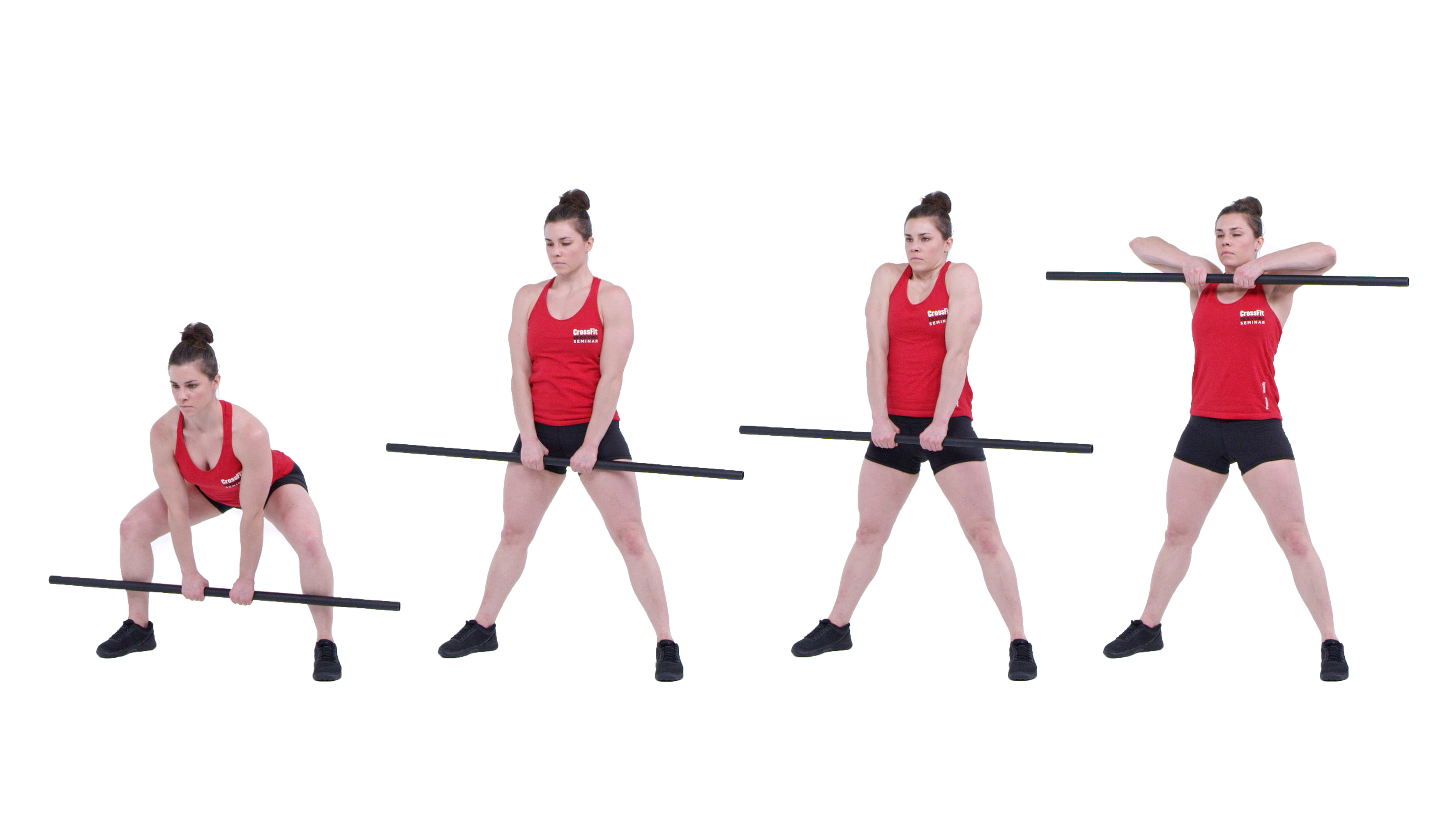 This exercise is something of a CrossFit favorite. It's as much a cardio exercise as it is a full-body strength and conditioning exercise. It is a good weighted bar exercise for your posterior chain and also works your biceps, shoulders, and upper back.
Read more about sumo deadlift
23. Thrusters
Thrusters combine front squats, weighted bar exercise #2, with shoulder presses, #10, to create a full-body exercise that will kick your butt! A high rep set of this move will leave your heart pumping, your lungs heaving, and your legs shaking!
How to do it:
Hold your weighted bar in front of your shoulders. Step out and into a shoulder-width stance. Brace your abs and look straight ahead.
Push your hips back, squat down, and descend until your thighs are roughly parallel to the floor.
Stand up quickly and use this momentum to help you push the bar up and overhead.
Lower the bar back to your shoulders and repeat.
24. Power clean
Your final weighted bar exercise is arguably the most complicated of the bunch. It involves lifting the bar from about mid-shin height to your shoulders in one smooth, powerful movement. This is a simplified version of squat cleans, which are part of the Olympic clean and jerk.
Read more about power cleans form benefits
Weighted Bar Exercise Workout
While you could just try a random selection of these weighted bar exercises, you'll get much better results if you follow a more structured program. Here's a beginner/intermediate workout to try. All you need is a weighted bar – no other equipment is required. Remember to spend a few minutes warming up before you start.
Please note: the repetitions listed are only suggestions. Do more or fewer reps depending on the weight of your body bar and your current level of fitness. The last few reps of each set should be challenging, but you should still be able to complete them using the correct form.
| | | | | |
| --- | --- | --- | --- | --- |
| | Exercise | Sets | Reps | Recovery |
| 1 | Front squats | 2-4 | 10-15 | 45-90 seconds |
| 2 | Romanian deadlifts | 2-4 | 10-15 | 45-90 seconds |
| 3 | Lunges | 2-4 | 8-12 per leg | 45-90 seconds |
| 4 | Hip thrusts | 2-4 | 10-15 | 45-90 seconds |
| 5 | Floor presses | 2-4 | 8-12 | 45-90 seconds |
| 6 | Bent over rows | 2-4 | 8-12 | 45-90 seconds |
| 7 | Shoulder presses | 2-4 | 8-12 | 45-90 seconds |
| 8 | Sumo deadlift high pulls | 2-4 | 10-15 | 45-90 seconds |
| 9 | Biceps curls | 2-4 | 8-12 | 45-90 seconds |
| 10 | Skull crushers | 2-4 | 8-12 | 45-90 seconds |
| 11 | Kayakers | 2-4 | 10-15 per side | 45-90 seconds |
| 12 | Side bends | 2-4 | 10-15 per side | 45-90 seconds |
Weighted Bar Exercises – Wrapping Up
It's incredible to think that, with just a simple weighted bar, you can work every muscle in your body. A lot of people believe that to work out, get fit, and lose weight, you need access to state of the art equipment, but that isn't really true.
So long as you work hard, you can achieve many fitness goals using the most basic workout gear.
While you won't build massive muscles or staggering strength with weighted bar exercises, you will definitely be able to get fit, tone up, and improve your endurance.